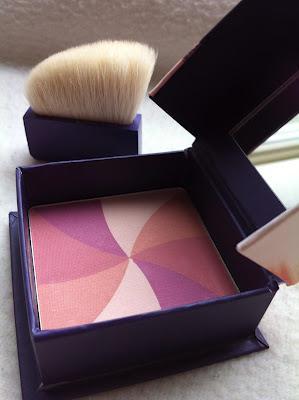 Beneft Hervana
I was given Hervana to try when I attended an event ran by Benefit in February (you can read about it here.) I didn't think that I needed a new blush in my life but Hervana has quickly become a staple of my daily makeup routine. The reason why I felt that I didn't need Hervana was because I thought that it was a blush but it is actually a really versatile face powder that can be used as a blush, highlighter, eye shadow and even to bring a subtle pop of color to the lips! 
Benefit describe Hervana as 'a good karma face powder.' Here I could use lots of puns about how 'divine' and 'heavenly it is', however I'm a realist from the North West of England so I'm going to say that Hervana is a really great product. One of the first things you notice about Hervana is the soft, sweet smell that is quite unusual for a face powder however, is completely appropriate for this product as it is soft and sweet through and through.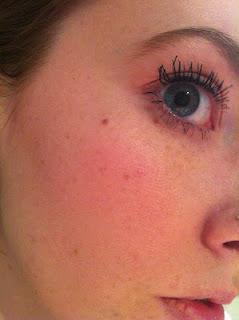 Hervana used on the cheeks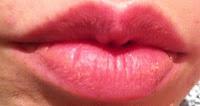 Berry Delight on the lips
Hervana is made up of four different shades; lucky shell,divine peach, heavenly rose and berry delight. Used together they make a lovely soft blush that gives a subtle flush of color to the cheeks. However, each of the shades can be used on their own and you can basically use Hervana as the majority of your daily routine. Lucky shell, divine peach and heavenly rose can all be used on the eyes as a subtle eyeshadow while berry delight can be used on the lips to give them a natural 'just been kissed' look.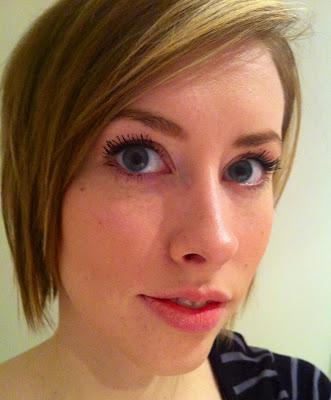 Hervana used on the lips, cheeks and eyes
Hervana is an easy to apply and wear matte powder that is perfect for the cheeks. It has become an integral part of my daily routine as it is basically a makeup routine in one little, well packaged box. To me the real strength of Hervana is that it really is perfect for everyday wear. If there are any downsides to this product it is the £23.50 price tag. However once purchased I suspect this product will last for ages as I've been using it everyday and have barely made a mark on it.