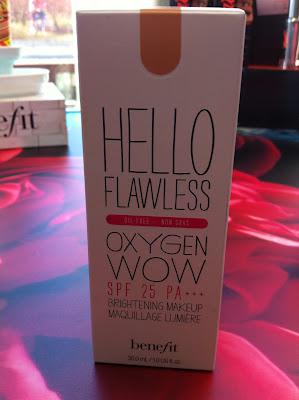 Hello Flawless Oxygen Wow Foundation
Today I took myself off to sunny Manchester to attend the last stop on the Benefit Hello Flawless Oxygen Wow roadshow to promote the brand spanking new Benefit foundation that launches next week! I already had a sneaky peek of the Hello Flawless Oxygen Wow at an event hosted by Benefit in February but now I have actually had the chance to try out this foundation for myself.
As part of the Benefit roadshow Lisa Potter-Dixon, Benefit's Head Makeup and Trend Artist, has been on a whistle stop tour of the UK beautifying all those she meets and I was one of the lucky few! ! I booked in for a twenty minute slot with Lisa where she made me up using all the best of Benefits products. Here is where I had planned to post a photograph, however after a day in the sunshine and an hour waiting for a missed train it hadn't fared too well and to put it bluntly I looked too rough to post a picture!!
Later myself and a few other bloggers attended an event where we were introduced to the Hello Flawless Oxygen Wow and color matched to the product, I was matched to Ivory Pure for Sure. Earlier in the day and I was given enough to wear for the week so I will be posting a full review soon. However my first impressions are very positive. It's lightweight and very easy to wear, obviously mine was applied by a professional so did look quite flawless on. I've got a small sample so hopefully I'll be able to replicate this effect myself! It also comes with an SPF 25 PA +++ which protects against sunburn and sun damage and as today proves, from time to time we do get sunshine in the UK!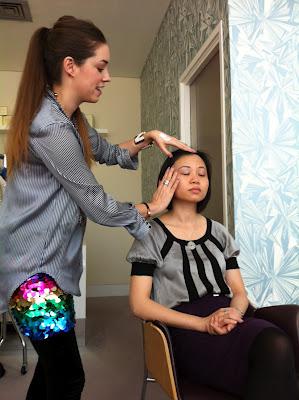 Benefit's Lisa giving a masterclass in application and color matching
We were also treated to afternoon tea and cakes at Harvey Nichols, which were lovely and dead posh! Miniature cakes scream high society in my opinion! I personally opted for apple juice as I was driving but the champagne looked lovely.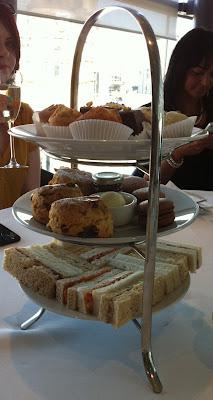 Afternoon tea yumminess!
 It was lovely to meet Lisa and the rest of the roadshow team and was great having my makeup done by such a professional. The only low part of the day was having to make a slightly rude and quick exit to catch my train, which I literally missed by like a minute! I was gutted that I didn't get the chance to meet all the other bloggers properly! I'm sat in the train station drafting this post regretting shooting off early and dreaming of all the cakes I left behind!