In a recent haul post, I shared with you all that I bought the new Benefit Hello Flawless Oxygen WOW foundation. I was excited about this product when I first heard about it. Being a Benefit and overall make-up junkie, I love trying out new things all the time. Considering I have enough foundation to last me about 2 years, I still didn't hesitate when I picked this up. As I said in my haul post, it magically appeared in my hands and then I was forced to buy it......honest!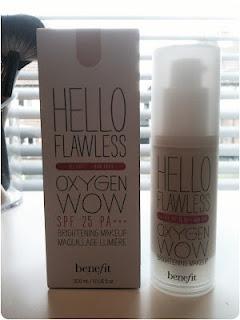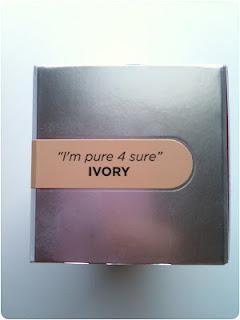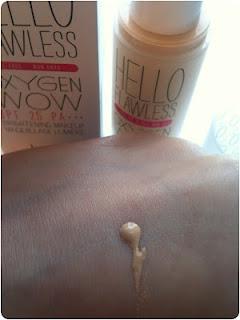 The packaging is cute and simple. The actual foundation is just a normal pump dispenser which is good as you can kinda judge how much product you want to come out. There's a mediocre colour range with 9 colours in total. I picked up the color Ivory - "I'm Pure 4 sure" (there are two Ivory's with different namers) mine is the second to lightest shade available. However, it's a good match to my skin tone. The formula is thin and smooth and is, I would say, a light but build-able coverage.
It's oil-free which is great for people that have oily skin and it also has SPF 25 in, which as we all know, is essential in a foundation. Especially since it's nearly Summer. It's described on the box as brightening and hydrating make-up.
My verdict
I love Benefit, unfortunately I don't love this product. I actually dislike it quite a bit. As hurtful as that is for me to say. Being oil-free I'm guessing it would work a lot better with oily skin-types. And since I have a very dry skin-type, it did not do me any favours. Although it says it's hydrating, it didn't hydrate my skin at all. It left my skin looking patchy and dry. After it being on for 15 minutes, I looked in the mirror outside and I looked hideous! I only used this product twice. First time I used Real Techniques buffing brush to apply it and the second time (today) I just used my fingers and neither way really helped. It looked horrible either way. I know I have horrible skin anyway and it's really awkward, but I had high hopes for this foundation. It's such a shame as I really do love Benefit a lot, however it definitely hasn't put me off buying any foundations they have in the future. It retails at £24.50 which I think is rather pricey for a foundation. As it's only been used twice, I don't want it to go to waste, so I've just put it on ebay. So if you like just click here to bid.
Have you tried the new Benefit Hello Flawless Oxygen WOW foundation? What did you think of it?