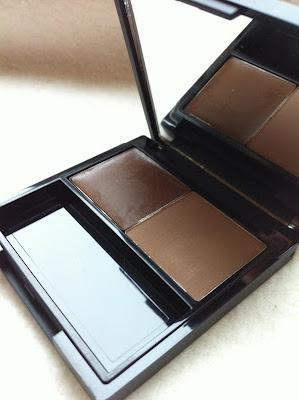 Benefit Browzings in light
If you read this blog regularly you will know that I was invited to attend Benefit's first Northwest bloggers event in Manchester a few weeks ago. (You can read about it here.) Benefit were really generous and gave everyone who attended a goody bag containing a selection of their products. Amongst them was the Browzings Brow Shaping Kit.
I have to admit I haven't paid much attention to my brows until I got this kit to try but I have definitely seen the error of my ways. I probably wouldn't have rushed out and purchased this product myself, purely because if you don't pay much attention to your brows you arn't going to invest in a product for them! However, at the Benefit event we were given a tutorial on how to use the kit and from that I could see the impact great brows can have on you face and its shape.
The Benefit Browzings is a small compact, complete with a mirror that also includes pigmented wax, powder, tweezers, a hard angled brush and a blending brush. I didn't have any of the brushes or tweezers in mine so I've been using a Body Shop concealor brush to apply it. I don't use a brush for concealer and it was the only one I had going spare but it seems to do the trick.
I am no expert when it comes to my brows (I'm no expert at anything I don't think!) but this kit couldn't be easier to use. Using your brush apply the wax to the brows to shape and define them. I like quite a natural look so don't really add too much to the shape, I just build them out to make them look more full. You then apply the powder, be sure to tap off the excess first, to fill in any sparse sections and to set the wax. It really is that simple! I'm not convinced you get the full effect from the photographs but I do feel really bare now if I don't do my brows. 
As I've said, I didn't pay for this product and probably wouldn't have spashed out £22.50 had I not been given one to try first. However, this is a product that I will repurchase because it has very quickly become an everyday essential and its such a great product. I don't think I'll have to repurchase for a while though because I've used it everyday since I was given it and you can barely tell that it has been used.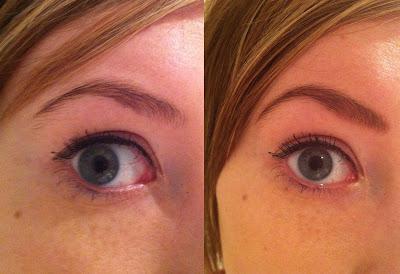 Left: natural brow Right: Browzings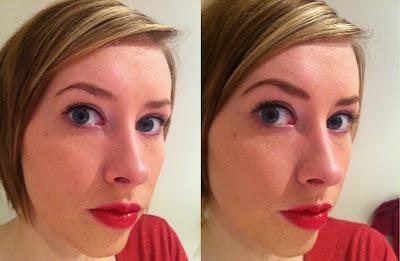 Left: natural Right: Browzings