Days to go: 78
I chose and purchased my shoes for the wedding in April 2010 – 19 months before the big day! Now these aren't a problem because I knew these were the shoes for me (even though one of the bridesmaids wanted to bet me £10 that I'd change my mind) – and I knew the dress I was going to choose would match perfectly (even if it would be in a non-matching but matching anyway sense!).
Here are the beauties – Irregular Choice Cortesan: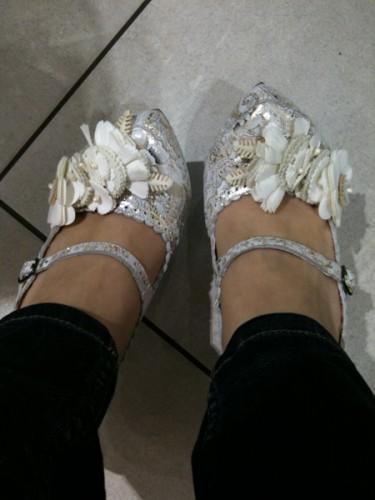 So in May 2010 I purchased the bridesmaid dresses. (The mention of the shoes will make sense in a few moments.) I'd decided a while back on a black and ivory theme (despite growing up always imagining having red bridesmaid dresses) and whilst in town with my Maid of Honour, Katherine, we walked casually into Coast and our eyes immediately were drawn to this – the Harmony Maxi Dress in monochrome: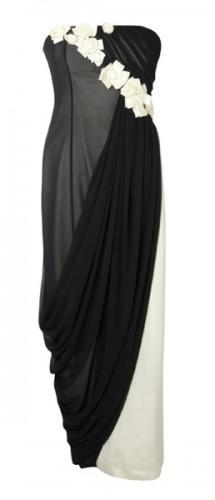 We were hooked. How perfect is this elegant dress for the elegant surroundings of a castle? I thought. So, we bought them. One for my sister and one for Katherine, and it was done. Bridesmaid dresses AND brides shoes BEFORE my dress. (Doesn't seem very logical when I think about it now…)
Now if you're wondering why I hadn't even looked at dresses for ME yet – I had a breast reduction in March 2010, so had to wait until June before I was healed enough to find a dress!
So, when I found my dress (which is for another day), these dresses were perfect. The right colour, elegant, and beautiful. I'd discovered I wanted to add another bridesmaid sometime around October 2010 – the best man's girlfriend and a very good friend of mine, Fiona, but these dresses were completely sold out – EVERYWHERE! So I lost hope until one day in November, I happened to be in Cheshire Oaks outlet village and there it was, the right dress in the right size for my new third bridesmaid – and at only half the original price! Bargain. Sold! I had my three bridesmaids. My sister, an old friend, and a new friend.
So there these dresses were, sat in my wardrobe, waiting for their moment, and I couldn't help wondering (during my realisations about lesson one: don't let the theme or feel of the wedding be dictated by where you choose to get married!) – are these dresses really right? They were starting to feel a bit too formal, a bit too elegant – and I didn't want my bridesmaids feeling stiff on the day. I want my photos to be fun and hilarious – not the kind you see where people are lining up forcing a smile through the stiffness of their posh dresses!
I was out for a drink with Katherine one night and this is the gist of the conversation we had (here is where the shoes come in!):
Katherine: "Oooh we need to start thinking about bridesmaid shoes. I've got some in mind that I could wear though if I can't find any."
Salma: "Oooh imagine if you all wore slightly crazy shoes like mine!"
Katherine: "Yeah it's a great idea but I don't think they'd go with the dresses."
Salma: "You're right – I've been thinking recently about getting all the dresses altered and making them shorter, maybe knee length.. and then maybe making them into a 50s style prom dress! I know it's ridiculous right?"
Katherine: "No it's not ridiculous! Although the dresses would probably look ridiculous… They're Grecian goddess dresses."
Salma: "Why… don't… we… change… the… dresses…. and go for some 50s style prom dresses?!"
Katherine: "OMG what an amazing idea!"
Salma: "I mean, I've been having doubts for a while – those dresses were perfect at the time – but since my epiphany of realising I can do whatever I want and the dresses anyone wears don't have to COORDINATE WITH THE CASTLE… maybe it's the right thing to do?"
Katherine: "And your wedding and your bridesmaids are meant to be a reflection of yourself. Would you even wear that dress in real life?"
Salma: "Er… no, not really. It's not my style."
Katherine: " Then I'm game if you are!"
Almost a year after we thought we'd chosen the dresses – I'd decided to go with my instincts and change my bridesmaid dresses and do what I've always wanted to do but didn't think I could – have each bridesmaid in a different dress! And you'll see soon that the new dresses make my dress look even better – and these new dresses are so rock 'n' roll – which echoes our music theme – and makes me so much happier!
The new dresses – all by Vivien of Holloway (and all shoe suggestions are Irregular Choice like mine!)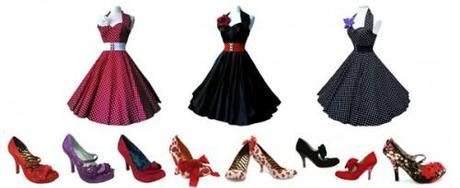 Katherine will be in red with white polka dots, my sister in plain black, and Fiona in black with white polka dots! One downside though – I am going to be SO jealous of my bridesmaids wearing those dresses! (I have a similar dress in royal blue with polka dots already and I LOVE IT!)
So lesson number two:
Be organised – but not too organised!
Take time to think about reflecting yourself in each part of the wedding – and don't buy something a year in advance because you think it is perfect at the time. My opinions and style change on a monthly basis – let alone every year! And, in my opinion, it's more exciting to start buying things closer to the wedding date!  I never thought I'd be brave enough to change my mind on these – but I'm so glad I did!
P.S. There are still two of the old dresses listed on eBay… I really need to sell them in order to buy the third dress and all the petticoats. I'm getting nervous that they won't sell! So if you readers know anyone who's always wanted that dress… Ok enough shameless plugging!