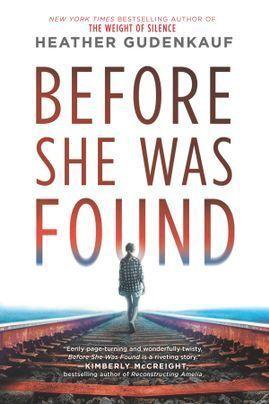 Before She Was Found by Heather Gudenkauf
Published by Park Row on April 16, 2019
Genres: Fiction, Psychological, Thrillers, Young Adult Fiction
Pages: 368
Format: ARC, eBook
Goodreads
Buy on Amazon



A gripping thriller about three young girlfriends, a dark obsession and a chilling crime that shakes up a quiet Iowa town, from the
New York Times
bestselling author of
The Weight of Silence
.

For twelve-year-old Cora Landry and her friends Violet and Jordyn, it was supposed to be an ordinary sleepover–movies and Ouija and talking about boys. But when they decide to sneak out to go to the abandoned rail yard on the outskirts of town, little do they know that their innocent games will have dangerous consequences.

Later that night, Cora Landry is discovered on the tracks, bloody and clinging to life, her friends nowhere to be found. Soon their small rural town is thrust into a maelstrom. Who would want to hurt a young girl like Cora–and why? In an investigation that leaves no stone unturned, everyone is a suspect and no one can be trusted–not even those closest to Cora.

Before She Was Found is a timely and gripping thriller about friendship and betrayal, about the power of social pressure and the price of needing to fit in. It is about the great lengths a parent will go to protect their child and keep them safe–even if that means burying the truth, no matter the cost.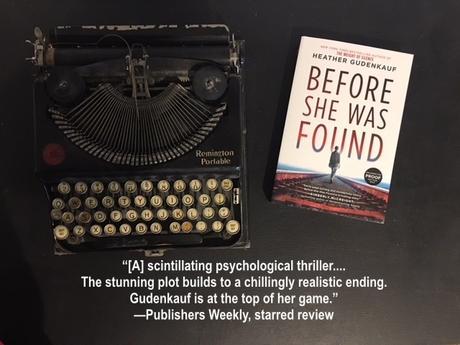 Who doesn't love Heather Gudenkauf? I mean, I've read a few of her books, but surprisingly I've not posted reviews on any in the past. when I saw her new book, Before She Was Found available for review, I requested an opportunity through NetGalley and was approved.
Before She Was Found is about three 12-year old middle-school girls and their sleepover that ends in tragedy.  There's Cora, Violet and Jordyn, who were having a sleepover at Cora's home and then decided to sneak out at midnight to go to the abandoned rail yard. While it started out as a fun adventure, it turned into a nightmare.  
A woman walking her dog discovers Cora on the tracks covered in blood and barely alive. The other two girls, Violet and Jordyn, are nowhere to be found. Violet is later found and taken to the hospital, while Jordyn turns up at the home she shares with her grandparents. It seems that Violet is in shock and Jordyn's mood is going from fear to defiance. 
The story itself is told to readers through text messages, journal entries, therapists notes, as well as various family members' perspectives. As the story moves forward, readers learn more about the girls and their relationships with each other.  Gudenkauf skillfully uses social media and urban legends to lend the fear factor to story.  The engaging characters combined with terrifying topics cause an "unputdownable" suspense set in a small Iowa Midwestern town.
I was fully invested in learning the truth.  I did not see the ending coming at all and I'm usually pretty good at that part.  Fans of Gudenkauf will love this book. It's another solid book which had me engaged from the very beginning. If you've never read anything by Gudenkauf, don't wait – start here and get this book when it comes out next month!
---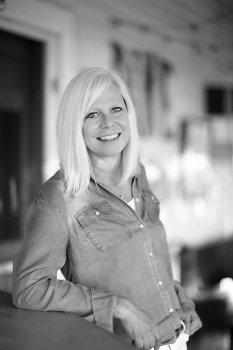 Heather Gudenkauf is the Edgar Award nominated, New York Times and USA Today bestselling author of The Weight of Silence, These Things Hidden and Not A Sound.
Heather was born in Wagner, South Dakota, the youngest of six children. At one month of age, her family returned to the Rosebud Indian Reservation in South Dakota where her father was employed as a guidance counselor and her mother as a school nurse. At the age of three, her family moved to Iowa, where she grew up. Having been born with a profound unilateral hearing loss (there were many evenings when Heather and her father made a trip to the bus barn to look around the school bus for her hearing aids that she often conveniently would forget on the seat beside her), Heather tended to use books as a retreat, would climb into the toy box that her father's students from Rosebud made for the family with a pillow, blanket, and flashlight, close the lid, and escape the world around her. Heather became a voracious reader and the seed of becoming a writer was planted.
Heather Gudenkauf graduated from the University of Iowa with a degree in elementary education, has spent her career working with students of all ages and continues to work in education as a Title I Reading Coordinator.
Heather lives in Iowa with her family and a very spoiled German Shorthaired Pointer named Lolo. In her free time Heather enjoys spending time with her family, reading and hiking. She is currently working on her next novel.
Connect with Heather on social media ~~
WEBSITE  //  FACEBOOK  //  TWITTER  //  INSTAGRAM  //  PINTEREST  //  GOODREADS
---
I received a complimentary digital copy of this book from the publisher through NetGalley in exchange for my review.  My views are my own and are in no way influenced by anyone.  Thank you.

~ ~ ~ ~ ~ ~ ~ ~ ~ ~ ~ ~ ~ ~ ~ ~ ~ ~

It would be great if you would stay connected with me!! You can follow me on Twitter @DebiL1611, like me on Facebook at 2014 and Beyond, circle me on Google+, follow me on Tumblr, Instagram and Bloglovin', subscribe on YouTube, or connect with me on LinkedIn and Pinterest.

Please make sure to visit my homepage and subscribe to my blog for more great posts on running, fitness and lifestyle topics as well as food, product, music and book reviews, and more!