beetroot poli recipe- indian beetroot recipes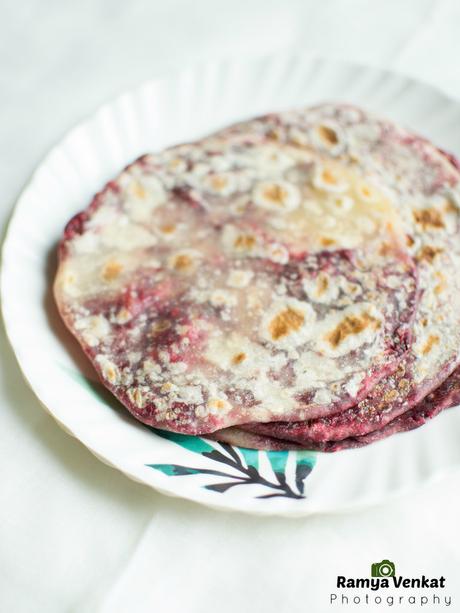 beetroot poli - sweet recipe with beetroot, which is really a fusion dessert with a veggie like beetroot.Thought of making masala from the beetroot as usual but finally ended up making the recipe in a sweet form.I adapted the recipe from here.We both like beets in any form but i dont like it in soup form.I like that in salads and in half cooked way and also in yummy payasams.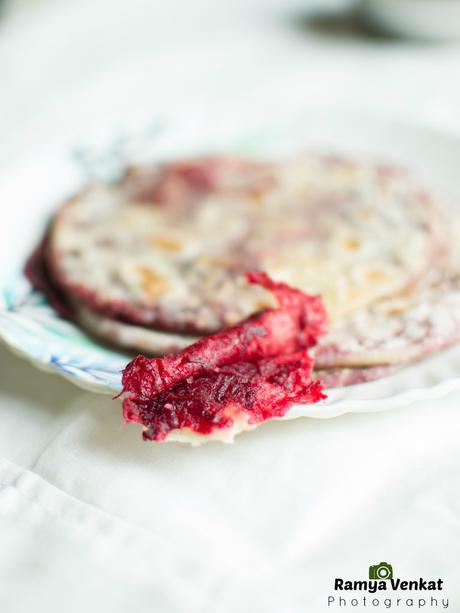 Usually for poli recipe, the outer dough has turmeric powder which gives yellow tint,but i forgot to add it here.You can add it as we make for usual poli recipe.I didn't posted the paruppu poli recipe or puran poli recipe here,sure i will post the recipe soon here.I already posted another fusion poli recipe which is made with fresh green peas,almonds and pistachios as almond pistachio poli,which tastes so sweet and that is a different combo for me to try.Check that recipe too for a fusion idea.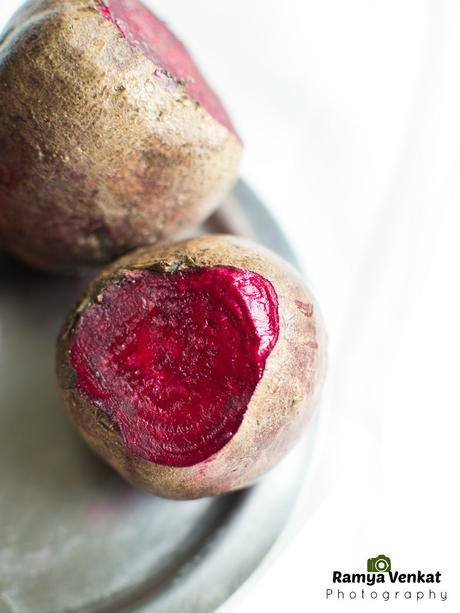 I made this yesterday and thought of posting today,as today is Aadi velli(Tamil month Aadi Friday),thought of posting a payasam but no mood to cook anything yesterday as it raining without a break.Taking pictures too difficult and managed somehow and clicked some pictures for blog.try this recipe and sure you will enjoy it.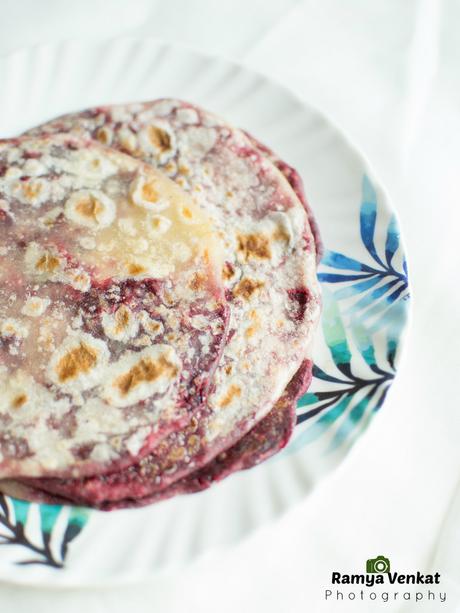 Add cardamom seeds instead of cardamom powder which gives aroma but little lighter than adding cardamom powder.I never like cardamom aroma in sweets or any kheers but after i start to cook and explore various recipes , am able to tolerate it.I love the addition of cardamom pods in curries and biryanis but not in sweets,dont know why.So i added the seeds not the powder.Saute the mixture well and then proceed,make sure the water content in beets get evaporates before adding sugar,otherwise the mixture becomes soggy.lets move on making the recipe.,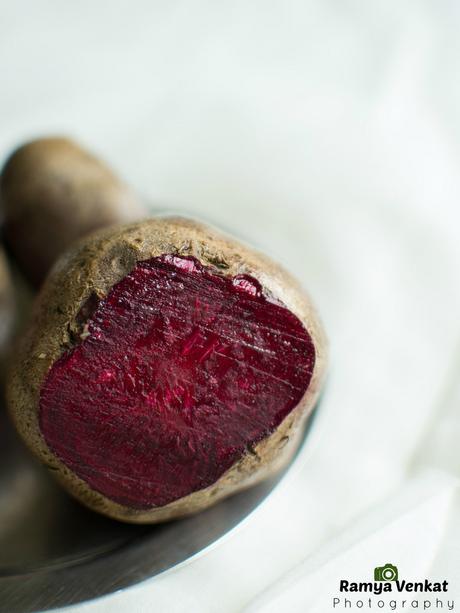 Enter recipe name here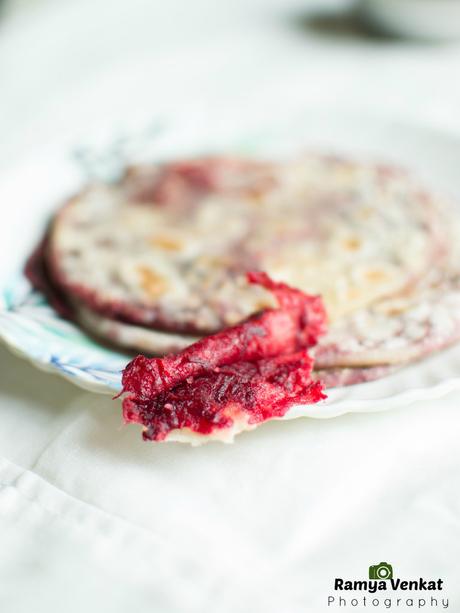 Recipe description here

all purpose flour / maida - 1 cup
beetroot - 3 small size
sugar - 2 teaspoon
cardamom powder - 1 teaspoon
salt -to taste
water - as needed
ghee - for frying
Instructions
Take maida and salt in a bowl and mix it evenly.then slowly add water and make a soft stiff dough from it.cover the dough with damp towel.

Peel the beetroot skin and grate it finely.Heat 1 teaspoon of ghee in a kadai and saute the grated beetroot in it.
Once there is a change in color,add sugar and cardamom powder and mix it and the flame should be in medium.
Switch off the flame once sugar combines and the beetroot mixture seems little dry.
Cool the mixture and divide the dough into equal sized balls and divide the beetroot mixture too.
Now using rolling pin,take one of the balls in rolling surface.Make a thick disc and place the beetroot mixture in the centre.
fold like we make for parathas and seal it properly.
Again roll it gently and be patience,otherwise the filling will ooze out.
Make a thick disc as per your preference.
Repeat the same for remaining dough and remaining mixture.
Heat the skillet and grease it with ghee and cook the poli for a minute or two on both sides in medium flame.
Serve piping hot.