Today's post is a very luscious rich and creamy sweet treat.With all the goodness of beetroot,milk and assorted nuts,this halwa will sure be a hit when served as it was in my home.Though it is time consuming(mostly for cooking beet root in milk),it is totally worth the effort at the end.The method I use here is little bit elaborate but the resulting halwa is so rich n creamy.Try this for yourself and enjoy.Here is the foolproof recipe for beet root halwa,an easy sweet/dessert for navaratri/Diwali.


Beetroot halwa
Star ingredients:beet root
Time:40 minutes
Serves:3
Ingredients:
1 medium sized beet root
3/4 cup sugar
1/4 tin sweetened condensed milk
2 cups milk
1/4 ghee (clarified butter)
1/2 teaspoon melon seeds(vellari vidhai)
10 almonds chopped
10 cashews broken
1/4 teaspoon cardamom powder
Method:
1.Wash,peel and grate the beet root.In a pan add 1/8 cup ghee and saute the beet root.Saute till nice aroma wafts out.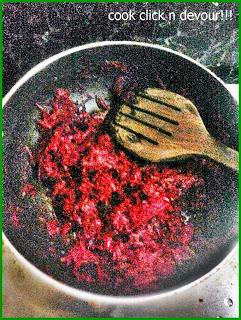 2.Add milk,condensed milk,sugar and mix well with beet root.Close the lid and let the beet root cook in milk mixture.Keep stirring in between to check if it is done.This may take around 20 minutes.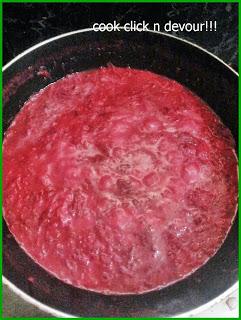 3.Once the beetroot looks cooked and all the milk is absorbed keep the flame in low and stir for 5 minutes.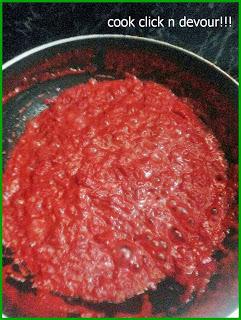 4.In the mean time fry the nuts in 1/8 cup of ghee and add to the beet root along with the ghee.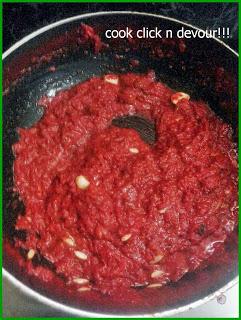 4.Add cardamom powder.one more teaspoon of ghee and stir for 5 minutes,until the halwa comes together.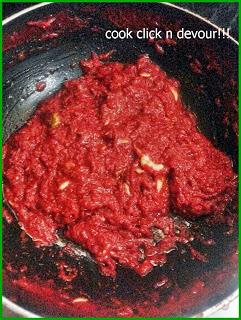 5.Serve hot or chilled.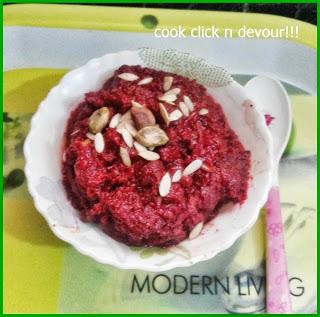 Notes:
1.You can pressure cook the beetroot in milk to save time but the texture will not be same as in this method.Beet root will become a little dry when pressure cooked.
2.You can add unsweetened mava/khova instead of condensed milk,in that case increase the sugar by 1/8 cup.
3.Reduce the amount of ghee by 2 teaspoons if preferred