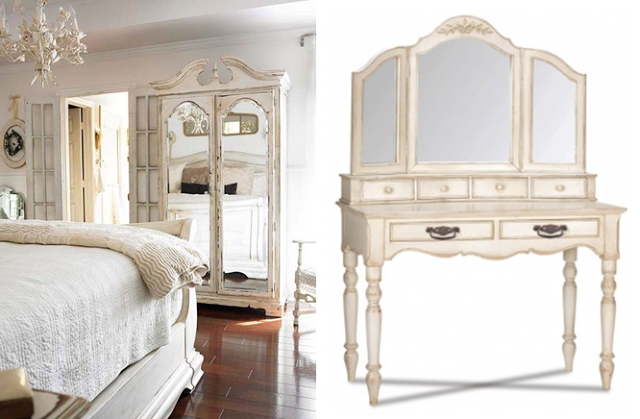 We're currently in the middle of getting the house redecorated/remodelled, and as part of this I've decided it's high time we gave my room a little makeover too. I decided it'd be nice to come home at the weekends, away from the hustle and bustle of the city, and to be able to escape in my own little haven - a place to relax and unwind.
This picture I came across on Pinterest is the kind of thing I'd like to achieve. I'm really loving French style furniture right now - it's so classic and elegant -just gorgeous. I really love the idea of everything being white and crisp too - minimal and clean looking.
Something I've wanted for years now is my own little dressing table. At the moment, I manage using my desk for everything - work, make up, storage etc... and so this year for Christmas I've decided to ask for my own little getting ready "station" to store all of my beauty bits and bobs in. This beautiful one from Webbs of Crickhowell is top of my list at the moment - it's perfect as far as what I'm looking for goes.
If there was one addition you could make to your "boudoir" to make it that extra bit special, what would it be?