Hii you!
Happy Happy Thursday!
I hope you're having a great morning. It had been relatively gloomy here in Toronto, but today it looks super sunny outside. And I hope & pray & am keeping my fingers crossed that it stays the same- because sunny days are the best. And I want every single one of them, until winter rolls in the North. :lol:
Anyhow, moving ahead to what I'm talking about today- I have been obsessing over doing our Bedroom. Now, having lived in School & University Hostels for 7 years, I always believed myself to be fairly acquainted to the idea of decorating my space. For example, during my School days, I had a huuuuge poster of Enrique Iglesias in my room, proudly declaring my undying love for him. Then my taste gradually changed, and during my University days, I would keep my beds perfectly done, with complementary curtains, doormat and well-decorated desk. Partial wallpaper and subtle lighting was enough those days, and I loved everything about my room. Good enough, right?
Well, kind of WRONG. Once you enter the real world, you realise that even decent sized bedrooms are probably 3 times the size of the rathole that Universities make us live in. And yes, decorating them doesn't come easy at all. :\
So here am I rambling about my decor woes. For now, I absolutely love my Bed. I had been dreaming of a quilted, tall headboard & I somehow convinced my significant other to get on board with this as well. We bought our entire set complete with a tall dresser, and two night stands from Canadian Furniture Warehouse & I hate to say this, but I'd never go back there. The delivery was almost a month late, and we'd to practically sleep on the floor since we threw the Bed out. Plus, nobody answers the phone, and if they ever do, they are either of no help, or extremely rude. We had to keep running to the Store every second day, and fight for our delivery, for we had already paid the entire amount. And in the end, they actually gave us the Floor Model night stands and Bed parts! :( So beware guys, Canadian Furniture Warehouse & Rooms Furniture- both belong together & have over 100 complaints against them on Best Business Bureau.We should have checked that before paying them any money. :mad:
Anyhow, leaving that nightmare aside, I still do <3 our Bed. Honestly, I'd checked a couple of places before & I didn't like any other, as much as this one. So all in all, I've found my silver lining & I'm extremely happy with it! :razz: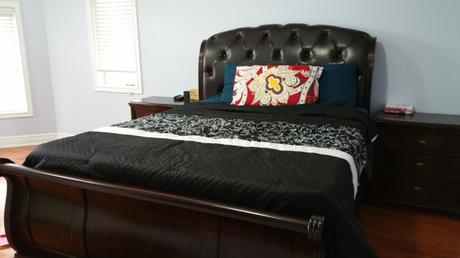 But that's it pretty much it, as of now. We definitely have to get a shorter Bed Box, because the present one makes it look way taller than it should. We just placed an order for one, yesterday, so it should be here soon. Aaaaand there are these windows in our room, next to the tall dresser. Apart from that tower fan, I don't have anything here either.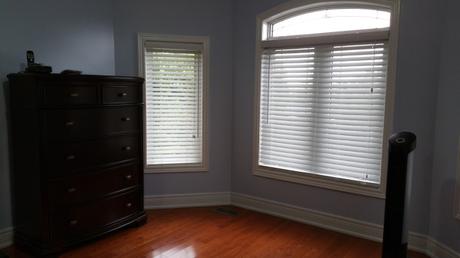 I think I should get a nice and large rug for this area. Then I can get a sleek chair with a night light next to it- because I <3 <3 <3 reading before bed! Besides that, I'm planning to buy lamp shades and small pots of flowers for the night stands. Plus, all those books and stationary need to be organised as well. Aaaand I need to arrange photo-frames and get some others framed for the walls as well. Oh my God- too much to be done for this Bedroom. See what I meant? :oops:
So I was scrolling through the Internet for some inspiration, and these are the ones that I absolutely loved. Now, I haven;t included extreme ideas or the rooms which are done up by probably some designer. I like rooms which feel warm, simple and cozy- like your home should be. I like my rooms to have a little character to reflect the person's style & choices, but at the same time- I don't like following the usual cookie-cutter home-decor trends. I was looking for ideas which I actually can use in my own room. Have a look. :)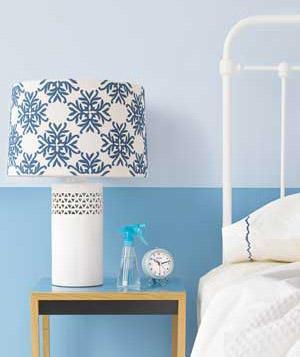 -Printed Lamp Shade. How chic is that!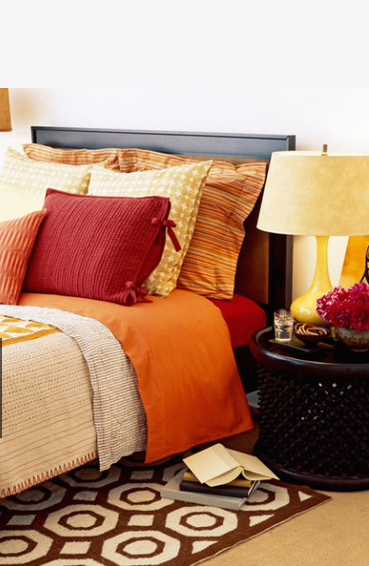 -I love pillows. So many of them together look just right. Yes, I definitely need more pillows.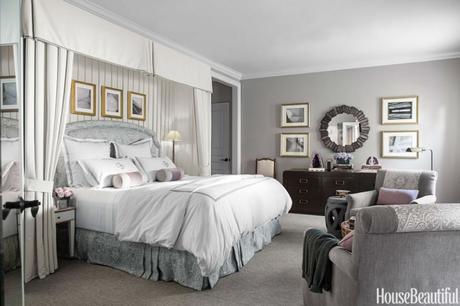 -I love the small details here- like the pleated bed skirt, the embroidered sofa set, the white colour palette, the big mirror above the dresser- but my dresser is too tall to incorporate that! :roll: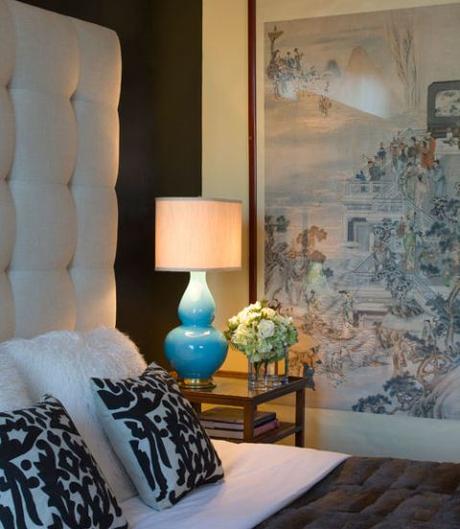 -I like the quirky lamp, against the huge painting <3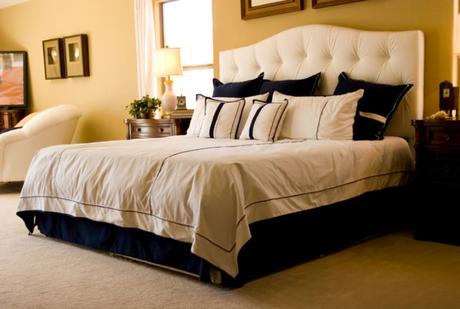 -Here, I like just the simplicity, I think. Sometimes that's all that you need. :)
What do you think about these? Do you have any other home decor ideas? I'd love to hear all about them. :D
Love,
[Picture courtesy: Housebeautiful.com, Houzz.com, Goodhousekeeping.com, Realsimple.com]