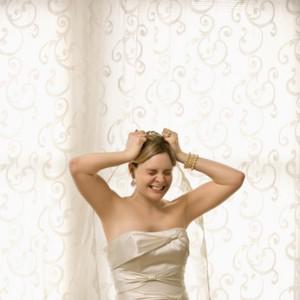 Trying to learn more about the brides in your niche so you can market effectively to them?  
Bridal Guide magazine just posted their "Top 7 Wedding Don'ts," a list of guidelines brides need to adhere to in order to have fabulous weddings. The list will give you an idea of the common mistakes brides make and guide you in offering and marketing the services that brides need.
Here are 3 of the top wedding don'ts and what you can learn from them that will help you in your marketing:
1) "Don't be a superbride."
Here they are addressing the bride who wants to control all of the details of her wedding. She spends her entire life wedding planning and executing while ignoring her fiance and friends, then runs out of time and energy and doesn't get everything done.
In your marketing, tell brides that you know how important it is that they have control of their own weddings. They will make all of the decisions, you can offer guidance, when requested. You will be there to organize all of the details and insure that everything gets done so they can enjoy their engagement time and wedding day.
2) "Don't have a cash bar."
A bride may think a cash bar is a way to allow guests to have the drinks they want without having to pay for them. Unfortunately, guests usually think this is tacky.
Let brides know that as a wedding planner, you can help come up with cost effective solutions for weddings and can work with other wedding vendors for ideas on keeping food, beverage, floral, linen and other details within budget.
You also know wedding etiquette and can steer them away from making serious mistakes that guests will talk about for a long time.
3) "Don't make guests cool their heels for hours between ceremony and reception."
Brides aren't aware of all of the unique venues available to them for their ceremonies and receptions and choose what they know. When they plan their wedding themselves, they don't realize the problems with their choices until it's too late.
As a wedding planner you can point out the problems with having too much time or distance between the ceremony and reception and suggest alternatives.
Your marketing message should mention that couples can benefit from your ability to help them find venues that match their budget and their style while being easily accessible.
Also mention your skills at creating timelines and schedules so the day flows easily for the bride and groom and all of their guests.
Take the time to read the "do's and don'ts" lists that wedding magazines and websites publish and post to get insight on the biggest concerns your brides have so you can address them.