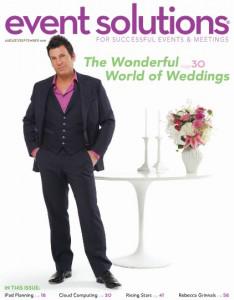 Now that you are a wedding planner, you need to keep up with the trends in the industry. One simple way to do this is to read industry magazines such as Event Solutions which is published for event professionals. Their August/September 2011 issue happens to be their first wedding-themed issue. It's filled with predictions on trends in weddings from some of the top wedding professionals in the country, including celebrity wedding planner, and star of the television show, "My Fair Wedding," David Tutera.
Here are 5 of Tutera's top 2012 trends that you might want to share with your brides:
1) Deep, Rich Colors
David predicts red and eggplant will be popular colors next year.
2) Personalization
David, and other wedding professionals, feel couples will be interested in finding ways to show their personalities on their big day. An example David cites is thegetaway car that William and Kate used in their Royal wedding.
 3) Family Style Food Service
Rather than having waitstaff serve plated food, large platters of food will be placed on tables for guests to help themselves. This gives a wedding a more relaxed feeling.
4) Metallics
From centerpieces to cakes, wedding professionals agree with David that metallics will be everywhere in 2012.
5) Unique Juxtaposition
Weddings will have interesting combinations of styles that will surprise and please guests. Examples, filling a sparse venue with lush florals or decorating a beach location to look like a garden.
You can read the rest of David's trends, get more information on wedding food and decor for 2012, and find tips on running your wedding planning business in the digital copy of Event Solutions.