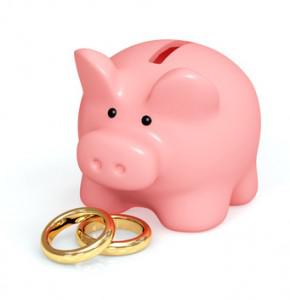 Brides like wedding planners to help them negotiate good deals on contracts and help them keep their expenses down with cost cutting tips. The July 2011 issue of Brides magazine has an article on ways to cut costs when planning weddings that you can use with your brides.
Here are 5 of the tips along with some additional ideas:
1) Skip the favors
Favors are nice but unless they are something guests really want, a bride could be wasting hundreds of dollars. Inexpensive favors can look cheap and items engraved with the couple's name and wedding date aren't as welcomed as the couple may think.
2) Skip floral centerpieces and use tiered platters of cupcakes
Centerpieces using cupcakes decorated to coordinate with the colors and theme of the wedding can be less expensive than flowers and are a fun way to serve dessert.
The article suggests skipping the wedding cake when you have tabletop cupcake tiers but your bride may still want to provide a cake and have a traditional cake cutting ceremony.
3) Give the bridesmaids something to carry besides bouquets
Parasols and fans mentioned in the article are a great idea, just make sure the attendants know how to carry them. You don't want them poking someone in the eye at the wedding.
Another idea that can be less expensive than a bouquet is a clutch purse accented with one flower. Celebrity wedding planner David Tutera attached peacock feathers and calla lilies to clutches for the bridesmaids in his "Great Gatsby" themed wedding on his show, "My Fair Wedding."
4) Use full-bodied flowers and create a lush look with fewer stems
A few large blooms or multiple stems of one kind of flower can create a bold look.
And don't forget to suggest your bride select flowers in season for the best deals.
5) Downsize the bar
Suggest the bride serve only wine, beer and her signature cocktail to save on her liquor tab.
The article suggestsbrides supply their own alcoholic beverages but before you suggest this, check the corkage fees. Some venues and caterers charge high fees when clients provide their own drinks abd it might not be worth it.
By the way, never agree to buy alcohol and then sell it to your brides unless you have a liquor license.
Do you have ideas on helping brides save money? Don't hesitate to share a few tips on your blog. Let brides know that you are a wedding planner who is respectful of their money and can help them stick to their budgets.