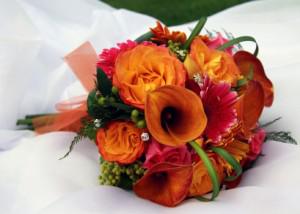 Planning a wedding with a bride who is struggling with the cost of wedding flowers? In the November/December issue of the UK edition of Brides magazine, top florists share tips on how a bride can get the best on a budget.
Here are 6 tips that you can share when your bride is on a small budget:
1) Be open-minded
When price is the major determining factor, a bride needs to be flexible. She should select her colors and theme then be open to the suggestions of the florist as to how to get the best for her money.
2) Choose a hand-tied bouquet versus a wired bouquet
Tied bouquets are looser, less structured and less labor intensive to create so they are less expensive than a wired bouquet in which each flower stem is replaced with floral wire.
3) Use large-headed blooms, like hydrangeas, in centerpieces
This means the florist would not need to use as many flowers to create a dramatic statement.
4) Don't have the same arrangement on each table
Use pillar candles, arrangements of ivy and foliage or bowls of fruit instead of floral arrangements on some tables in order to save money.
5) Avoid out-of-season and imported  flowers
If flowers need to be shipped to the wedding, the shipping costs will be added to the bill.
6) Repurpose larger arrangements
Tress and large vases of flowers can be used at the ceremony then moved to the reception site.
As a wedding planner, make sure your network of wedding vendors includes florists who can help a bride have beautiful flowers on a small budget.
You can read more great tips in the magazine.