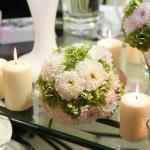 When you are a wedding planner, brides expect you to know how to help them trim costs and still have a great wedding. The November 2011 issue of Brides magazine features the article, "50 Genius Cost Cutters," geared at helping brides save money. 
Here are 5 of the cost cutting tips the magazine lists that you can use with your brides:
1) Suggest off-peak dates
Dates between November and April, except for the holidays, are less desirable and therefore less expensive. If the bride want to get married during the business summer months, suggest she select a Friday or Sunday instead a busy Saturday.
2) Help her choose a venue that is already furnished and has linens
Rental costs can add up if the bride has to bring in all of her own tables, chairs and linens.
3) Keep floral costs reasonable by decorating strategically
Suggest the bride select flowers that are in season and are locally grown. Also concentrate on the table centerpieces, that's what guests will be seeing most of the night. Refrain from investing a lot of the floral budget in decorating staircases and hallways.
4) Use a lot of candles
Add drama with clusters of glowing votives or giant pillar candles.
5) Nix the full bar
The bride can serve just wine, beer and soft drinks to eliminate the high cost of hard liquor. If she must have something more, work with the bartender in advance to create a signature cocktail.
Experienced wedding planners know how to help their brides make the most of their budgets, so learn all you can about how to cut wedding costs without sacrificing a bride's wedding style. And don't forget. you need to be able to refer your brides to vendors who will also keep costs low while having a stylish wedding.
You'll find more ideas in Brides magazine.