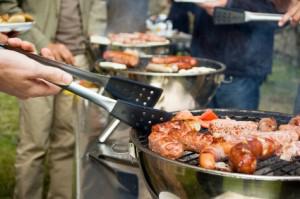 Are you planning any weddings that will take place over a 3-day weekend?
Lauren Bush, model, philanthropist, niece of  former President George W. Bush and granddaughter of former President George H. W. Bush, married David Lauren, Executive Vice President of Ralph Lauren and the designer's son, yesterday, in the middle of our long Labor Day weekend.  All details and photos are not out yet, but it was reported that the Western-themed event at the Double RL ranch in Colorado would start Saturday with a picnic, softball game and rehearsal dinner, the wedding ceremony would be Sunday, and Monday would include a trip to the rodeo for the guests.
Quite a fun weekend for the wedding party and the guests!
If you are currently working with a bride on planning a wedding that will take place over a 3-day weekend, you and she want to consider planning some fun activities for the guests. However, before you do detailed planning, make sure the bride is aware of some of the problems with having the wedding over a holiday weekend.
During last Labor Day weekend, I blogged about three of the issues that could be a concern.
Here they are again:
1) Travel can be more expensive.
Guests may have second thoughts if the price gas, airfare and hotels is high.
2) The venue and wedding vendors may be more expensive.
Many need to pay their staffs holiday pay which may be double their usual pay. Those costs will be passed along to your brides.
3) Many people have getaway plans on holidays and may not want to spend the weekend at a wedding.
This is especially true during a Labor Day weekend, which many consider to be the last weekend of the summer. People may prefer planning a personal family getaway that doesn't include attending a wedding.
If these things aren't a concern, make sure you and the bride start your planning early, book  a venue and vendors as soon as possible and let guests know with Save-the-Date cards so they can plan accordingly.
And don't forget that the cost of running your business may be higher during a holiday weekend also so adjust your rates, if necessary.
Hope you are having a safe and happy holiday!