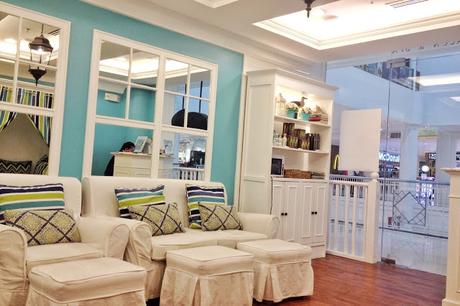 Whenever I pass by this chic shop at the 3rd floor of Ayala Center Cebu, I can't help but glance and feel drawn to the bright blue-and-white interiors. It looks like an instant escape from the bustling mall. 
Okay, you may be wondering why I'm writing about something totally not related to food. Well, I would just like to start expanding this blog into a more personal blog as well where I share more of my interests besides eating good food which will be including Beauty & Wellness, Health & Fitness and Travel. I guess you could say it's evolving to a lifestyle blog. After all, I'm a girl and there's more to me than just my passion for eating. I'm still trying to figure out how to redesign my blog's layout though to make it more organized. Help! I'm really no techie!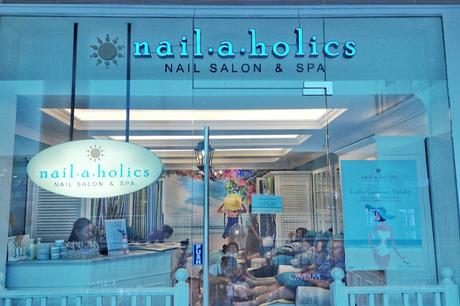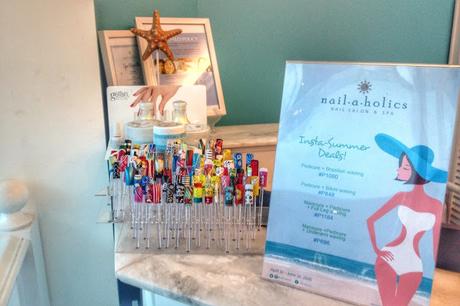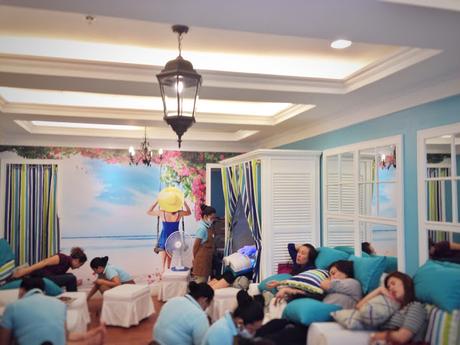 So, I finally had the chance to experience the service of this shop last week. I always had the wrong timing in previous occasions because the place was always full! There must be a good reason, right?I just love the interiors-- blue and white is my favorite color combination and the place just really evokes such a calming atmosphere along with mellow, relaxing music to complete the ambience. I went for a manicure and pedicure so let me just take you along my experience through the photos below...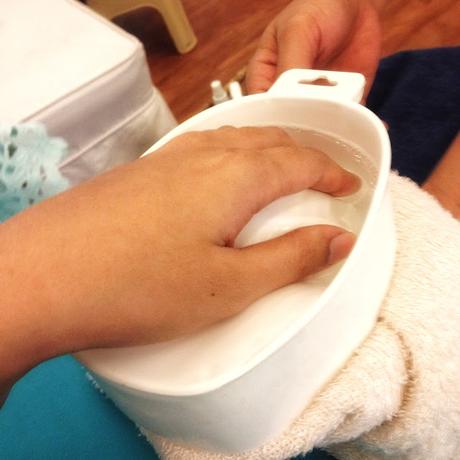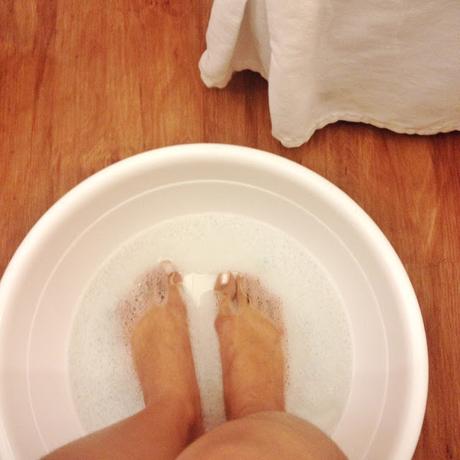 I don't often have my nails done because I don't like having nail polish when I cook at home and my cuticles are thin. So, my fingers are really low-maintenance and I find it quite a waste of money if I go to the salon for my nails every week as what most girls do, since I can manage to maintain them myself. However, I do visit the salon once a month and I usually just have the basic cleaning just to trim my nails and side cuticles. I also prefer salons that let you soak your feet before the cleaning begins so, I really appreciated that Nailaholics did not only have a foot soak but a hand soak as well!  
My manicurist's name was Angel and she always made sure I was extra comfortable by asking affirming questions, propping pillows behind my head and on my lap so I can rest my hands while she did my feet first.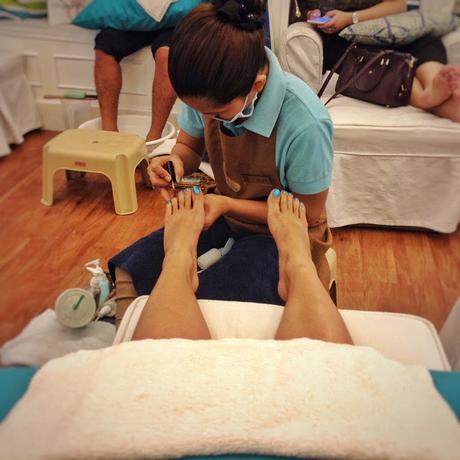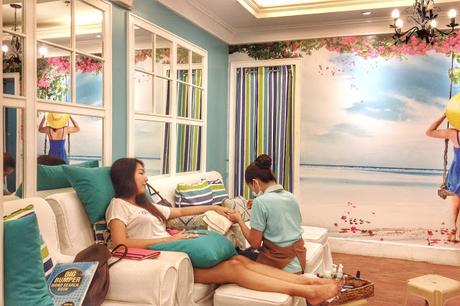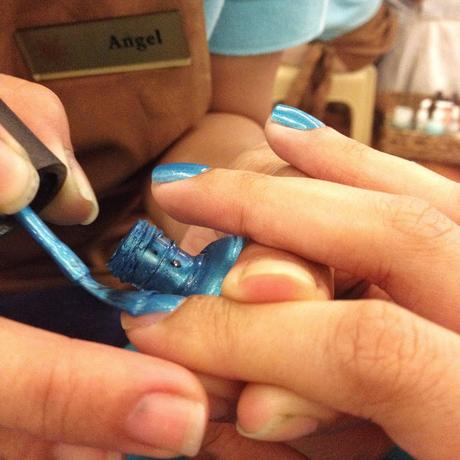 Another reason why I don't really bother going to salons for my nails is that I find it difficult to find a manicurist who has gentle hands and really listens to my requests about not taking out the cuticle along my nail bed. But I was really pleased with Angel, that she seemed to be the perfect handler for me and I can tell from how she explains things (I asked her a bunch of questions about my nails) that Nailaholics thoroughly trains their staff in terms of sanitation, aptitude in service and customer care. You are definitely assured that they know what they're doing.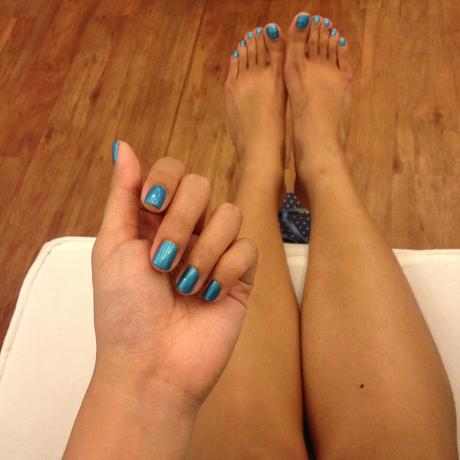 And voila! I loved my nails!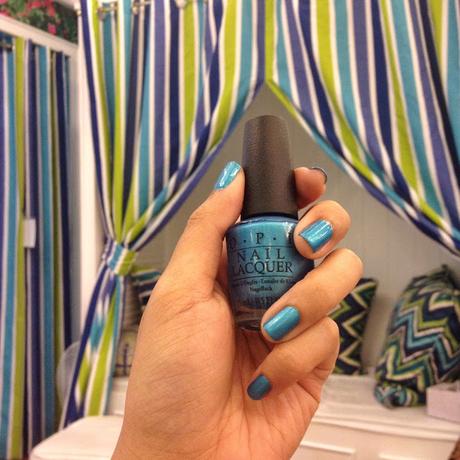 I chose OPI's Teal the Cows Come Home for both my fingernails and toenails. 
Nailaholics is definitely an instant and convenient escape from all the hustle and bustle, being a spa and salon where you get the ultimate pamper sesh while getting your nails cleaned. You can even avail of purely massage services if you just need a quick de-stresser  without having to undress and get yourself oily. 
This is also a great place to have a spa party for say, birthdays and bridal showers. Click on the thumbnails below for a glimpse of their service menu: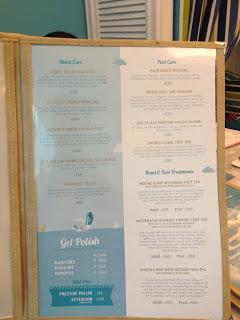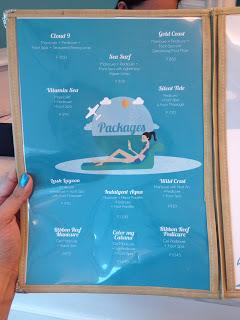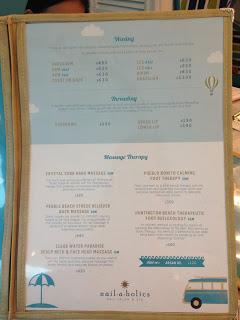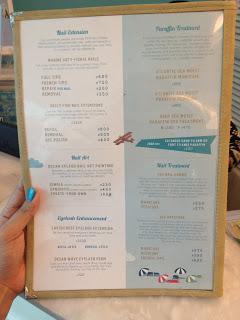 I personally find the services quite pricey compared to other salons but I guarantee that when you experience the services they offer, you'll never want to go anywhere else. 
Here are my top 4 reasons why I highly recommend Nailaholics:
All the polishes are imported-- OPI and Orly.

You are given full attention and your service is not rushed.

The ambience is completely relaxing-- furniture, interior design, music.

The best part: the basic manicure and pedicure come with a 5-minute massage for each limb (and I mean not just your hand, but until your elbows)!  
I suggest you call them to schedule your service because it really is packed most of the time. Let me know how your experience goes in the comments section of this post!
Nailaholics Nail Salon & Spa
3rd Floor, Ayala Center Cebu
(beside Hannah's at Maze, fronting McDonald's)
Upper Ground, North Wing, SM City Cebu
Facebook: 
http://www.facebook.com/nailaholics
Instagram: @_nailaholics