Having blessed ( not the same feeling always) with a sensitive and acne-prone skin, it takes an added effort on my part to take care of my skin, specially this time of the year. This post may not be of any relevance to everyone but I know many out there are constantly looking for solutions to their sensitive skin woes.
I have a list of the products that have worked for my skin over years. Remember what works for me could be a hit and miss for others. I do have good and bad skin days. During the blah days nothing works, not even the most sought after, blogger's favorite argan oil. This brand oil in particular worked for 99.99% of the people who tried it but unfortunate me got left behind in the 0.01% for whom this failed....... uhhh ! 
Whatsoever, these products here come to my rescue.......everyday !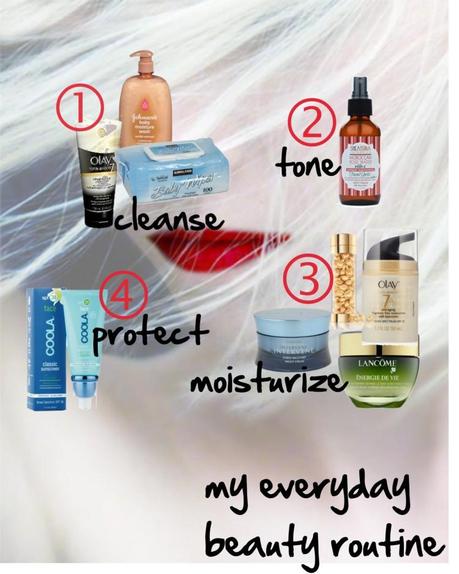 CLEANSE
Johnson baby wash--- the safest, non-drying face wash I can swear by anytime.                                   
Olay total effects citrus scrub----- I use this scrub alternately with the  baby wash.Kirkland baby wipes---- never undermine the magic these wipes can work. On lazy days I would use one of these to clean out my make-up.                                          
TONE
Shea Terra rose water mist---- nothing can beat this mist. I keep it     in my fridge and spray all 
over 
whenever 
my skin feels dry. Added   bonus it is enriched with collagen. 
MOISTURIZE 
Olay total effects 7-in-one anti aging daily moisturizer---- after 30     one needs an anti aging 
cream. I  
have tried 
 gazillion other moisturizers but 
I keep  coming back to this especially after a             morning face wash.
Lancome energie de vie dullness relief cream---- my recent fave. A non-   oily moisturizer that I like to use 
after a bath or a 
 midday face wash.
Elizabeth Arden Intervene night cream-----this miraculous cream has  been a beauty staple in my family.  
I kind of inherited this  
product from my Mom. Saying 
that I 
can't live without this, would be an      
understatement.
Elizabeth Arden ceramide youth restoring serum-----just one capsule  every other night is all I need 
for that s
upple skin feel in the morning.                                                          
PROTECT 
Coola cucumber face sunscreen spf 30---- one should use a sun protectant all year round.  
Since this one is formulated 
specially for the facial skin, I prefer
 using this one. 
These are for my everyday skincare faves, some expensive and some not so expensive. 
What are your beauty swear-by's ????
Thanks for stopping by
beautifully yours
SAUMYA