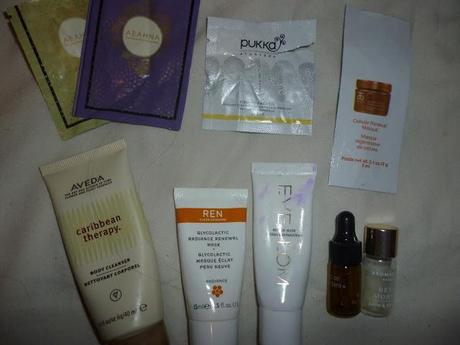 I haven't done a beauty sample post in ages and my empty samples have been building up. So I will just jump straight into it.
Abahna Body Lotion - There is 4 scents of the Abahna body lotions and so far I have tried the mandarin & sicilian bergamot and lilac rose & geranium scent. Both were gorgeous and left the skin feeling smooth and smelling great. These are nice textured lotion not to thin or thick and sink into the skin easily. I will be looking into purchasing a full size at some point.
Pukka Firming Facial Oil - I'm obsessed with facial oils, so was excited to try this. It had my favourites ingredient in it, rosehip oil which my skin loves. I only got two uses out of the sachet so hard to say what benefits it has to the skin but it left my skin feeling plump the next day.

Aveda Caribbean Therapy Body Cleanser - This is a really thick body wash that had a slight citrus scent to it. It cleansed the skin well and didn't dry it out. This was ok but I wouldn't rush out and buy a full size.

REN Glycolactic Radiance Renewal Mask - I have had loads of samples of this so you may already know my thoughts on it. This is one of those exfoliating masks that leaves your skin glowing as soon as your remove it. I find it helps reduce marks on the skin as well as leaving the skin soft. I have ran out of all my samples of this now so will be purchasing a full size.
Eve Lom Rescue Mask - I loved this mask, it instantly made my skin look clearer and it didn't leave my skin feeling too tight. It has a very strong menthol scent to it, so that may put some people off but I adore it. I would repurchase it but it is so expensive and I have heard the Superfacialist deep cleaning mask is identical so I will be purchasing that instead.
Trilogy Rosehip Oil - I have already purchased the full size of this as I loved it so much. It is one of those oils that you see instant results with. After one use I woke up with clearer, brighter skin and I couldn't stop staring at it. One to check out if you have a lot of acne scarring.
Aromatherapy Associates Revive Morning Bath & Shower Oil - I am in love with this brand, I have recently bought the miniature kit with samples of the oils in it. This was great for a pick me up in my morning shower. This is a gorgeous uplifting scent that really helped me get up and go on those morning where it was more difficult that normal.
Have you tried any of these before?