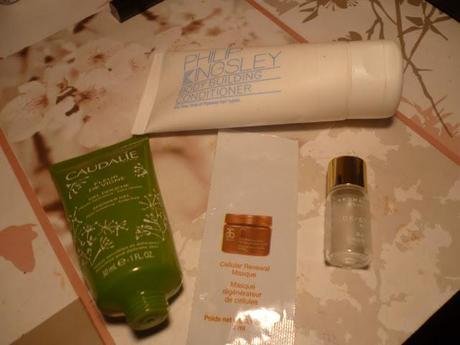 Here are a few more samples I have used up over the last week or so.
The Philip Kingsley Body Building Conditioner is something I picked up when I first check out the M&S beauty hall months ago. I still have a little bit of the shampoo left so that will feature in the next post. This was a light conditioner that left your hair feeling soft but not heavy. It isn't something I wouldn't buy a full size of though.
Caudalie Shower Gel is a soap free gel that had a gorgeous fresh scent to it. It didn't dry my skin out at all and left me feeling really clean. This was great for those morning shower to wake me up.
Arbonne isn't a brand that many people have heard about, I have a post here if you want to learn more. My friend gave me a sample of the Cellular Renewal Mask which is one those gel type masks that gentle exfoliates the skin. I loved this, it left my skin glowing and smooth. It also made my pores look smaller. I am definitely considering buying a full size of this but it is a slightly on the pricey side.
Lastley is another product I am in love with. The Aromatherapy Associates De Stress Mind shower and bath oil. This little bottle is meant to do one bath or shower, I managed to stretch it out over 4/5 showers by just using the tiniest amount on my chest at the end of my shower. This has a strong relaxing scent which really does help to clear your thoughts.
Is there any samples you have used recently anfdloved?