Now that we are nearing the end of winter, my poor lips are looking for a break from all the bouts of chapping and dehydration, and so it is perfect timing that the nice girls from Targetgroup, invited MeLikeyUK to review the Spa ParadisaTM lip butter range!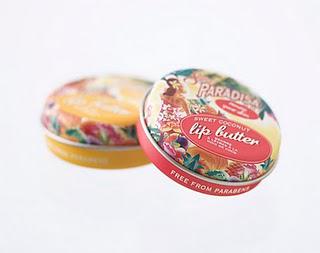 The new lip butters from Spa ParadisaTM 
Launched in 2009, these tropical lip butters are bursting with fruity scents of either "Sweet Coconut" or "Juicy Passionfruit". They are enriched with Vitamin E and Shea butter, which guarantee to nourish any poor neglected lips!
Spa Paradisa
TM
 has beautifully packaged the 10ml size tin which is a perfect fit for any make-up bag, handbag or indeed pocket!
The price is £3.50 per tin or £6 for a twin pack (1 x "Sweet Coconut" and 1 x "Juicy Passionfruit").
Spa ParadisaTM  lip butters are available at Boots, Debenhams, Urban Outfitters and online at www.next.co.uk
MeLikeyUK Review
Pros
:
Scent:
Available in "Sweet Coconut" and "Juicy Passionfruit". I tried the "Juicy Passionfruit" and was immediately transported to a Caribbean beach! 
Texture:
A rich, smooth and intense treatment. My lips felt instantly moisturised, without feeling greasy.
Packaging
:
The tin is decorated differently depending on the scent; yellow for "Juicy Passionfruit" and red for "Sweet Coconut". The imagery itself reminds me of the advertising in the 1950's of which, I am a huge fan!
Availability:
Available at well known high street stores with the option of purchasing online at Next.
Cons:
Price:
At £3.50 for 10ml it is quite pricey, but this is somewhat mitigated with the twin pack offer (i.e. two for £6)
Frequency of application:
If like me, you are a regular tea and coffee drinker, you will need to apply regularly throughout the day
Overall MeLikeyUK rating:
7/10
My thanks to Courtney and Natasha for introducing me to Spa ParadisaTM.
You may want to check out other products in the Spa ParadisaTM  range.
Indulge yourself at:
http://www.spaparadisa.com/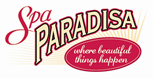 Disclaimer:
The contents of my blog posts are
my opinions alone.
It is important for me to uphold the integrity of the "MeLikeyUK" blog. When I am asked to review a product/service, I will only agree to refer to it in my blog posts if I genuinely
like
it and will provide an associated rating. The blog posts without a rating signify me sharing an experience with the audience unprompted. To avoid misleading the audience, and to save time, I will not review and publish products/services which I believe are not compatible with my blog.
Anything with a rating of 5/10 or above will be deemed to be acceptable and published on the MeLikeyUK Blog.