I haven't been taking outfit photos (but I did yesterday!!!!). Bad. But I get up too late in the morning. I don't even have an excuse this week because A. is on vacation (

secretly hating you, A. 

hope you're enjoying the beach; bring me some sand) and therefore the shower is all mine and I can get up nice and early and get my bathroom routine over with. But no, still not getting up. So in lieu of outfits, I'm going to talk about my other favorite thing (besides shoes, purses, and books...): makeup!! - note: I became a Sephora VIB over the weekend. I'm unreasonably proud of this fact, even though it means I spend far too much money there!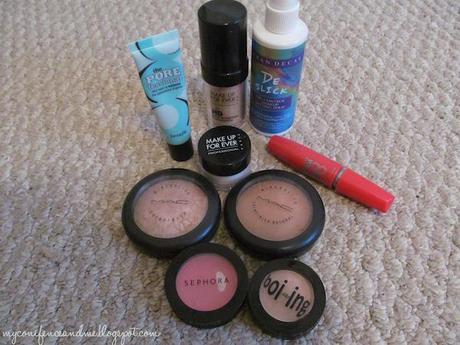 On a day-to-day basis, I'm very low-key when it comes to make-up. Lately, I haven't even been wearing foundation, because it's just clogging my pores and with the humidity and heat that are already here, less is more I think (I hope....).  But, these are the every day products!


Face: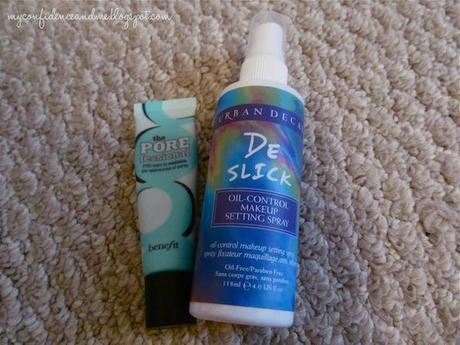 I begin my routine by spritzing Urban Decay's De Slick on my face - post lotion and pre makeup. It is supposed to eliminate oil, and I don't think it really works (I've yet to find something that does so any advice you've got, let me hear it!), but it is nice and cooling and when you finish off your look with it, it creates a nice, dewy finish.  I've stopped using it recently (the whole pore clogging thing, again), but I follow De Slick with a primer that minimizes pores. Amazingly, the stuff does work! I use it only on my t-zone and my forehead.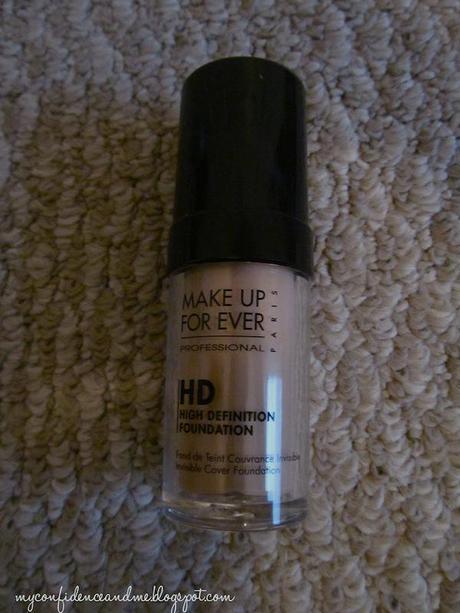 I never used to wear foundation, and then this past winter, I decided I needed to care for my face. Upon a recommendation from K.G., I purchased MUFE's HD foundation (it was also recommended to me by the Sephora employee as it supposedly minimizes oil). This stuff is amazing! It really does create a smooth canvas, and the coverage is excellent, but it doesn't feel like you're wearing makeup. Until it gets above 80 degrees and humid like it's been recently in DC.... I'll probably go naked-faced this summer, but I can see myself returning to this in the fall!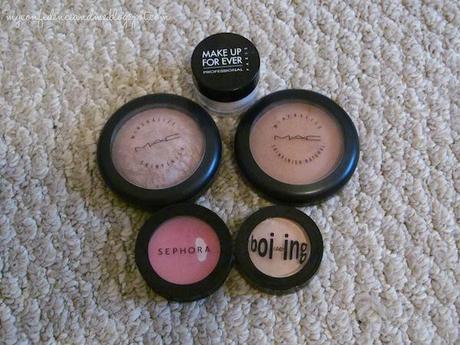 Whatever base I create on my face, these are products I use daily. For bronzer and highlighter, I use MAC's Mineralize Skinfinish in Give Me Sun and Soft and Gentle, respectively. They're both great and are really blendable. I use the bronzer for contour and the highlighter along my cheekbones and on my browbone. Under my eyes and on blemishes, I use Benefit's Boi-ing (how do you pronounce that? Is it boing? Boy-ing?) in 02. So great. I'm not really picky when it comes to blush (though I do want to try both Bobbi Brown's Shimmer Brick and NARS Orgasm), so right now I've got Sephora's blush in Romantic Rose. It's not great but it gets the job done, so once I get a little more tan, I'm going to explore other options! Once I'm done, I dust MUFE's HD Microfinishing Powder over everything.
Eyes: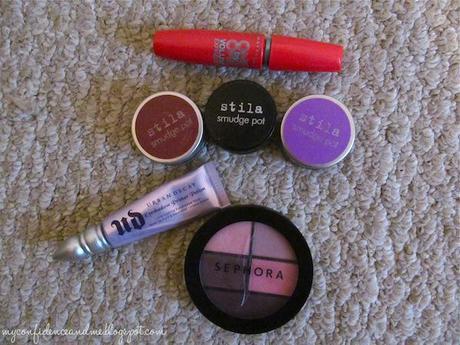 I'm down-and-dirty when I get ready in the morning. I slap on some concealer to cover up the shadows that are deepening with each week, and put some mascara on. That's another thing I'm not terribly picky about. I've got extremely long eyelashes (I don't even really need anything other than clear mascara, but I like some drama), so mascara is mostly just mascara in varying degrees of clumpiness. I tend to go towards volumizing formulas because my lashes are already so long, but will sometimes get a combination or lengthening formula. I frequently switch between drugstore and higher end mascara! Maybelline's One-by-One is actually pretty good and separates lashes really well.
When I'm attempting to be more fancy, I'll add some eyeliner or eyeshadow. I love this purple palette by Sephora, and UD's Primer Potion is great. I wish I still loved these smudge pots, but they get really dried out over time (not that they were very gel-like to begin with)! I put them in here, because they were in heavy rotation for quite a while, but I need to make the jump to liquid or kohl eyeliners again! The smudge pots don't offer much finesse - I can't describe to you the trouble I've had making a cat-eye... I also have a black and brown shadow palettes, but I tend to stick to this one because I like how purple looks with my brown eyes!
Lips: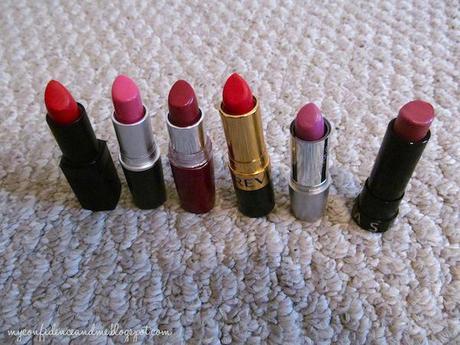 I love lip products. I can't even count how many chapsticks and lip balms I have stashed in various places. As K.G. has said, there's no one  out there with more lip products than me! However, these are the ones that have been in heavy rotation lately: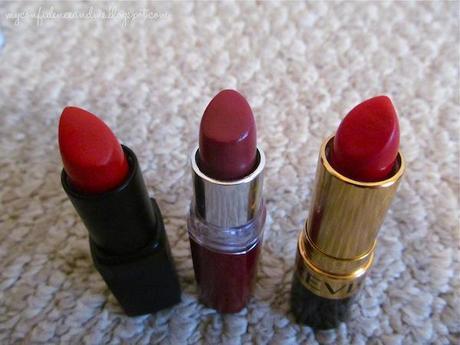 - NARS Heat Wave - Everyone's wearing it, so I won't beat it to death, but it's awesome!
- Maybelline Moisture Extreme SPF 15 in Roseberry - A really pretty pinky-berry-red.
- Revlon Super Lustrous in Love that Red - looks similar to Heat Wave in the pictures, but it's a true red and it still intimidates me, even though I love it!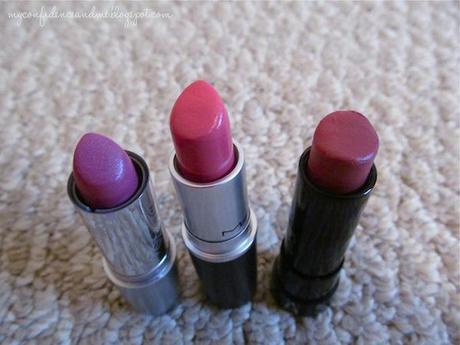 - (don't laugh) Wet n Wild in 525D - I got this as a gift from my grandmother and it's surprisingly awesome? It's a pink with blue undertones and a slight shimmer. For a lipstick that is, I believe, less than $3, it has remarkable staying power (it actually lasts longer than both of the following two).
- MAC lipstick in Chatterbox - This is a true, bright pink (similar to NARS Schiap, I think). It was the first bright lipstick I bought - before bright lipstick was in, mind you, so everyone gave me weird looks
-Sephora Lip Attitude in Glamour - These lipsticks are surprisingly creamy and moisturizing, but they have no staying power. Still, this is a pretty rose color.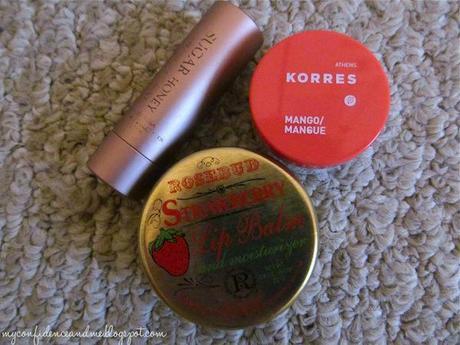 The above are my lip balm staples that are always in my bag. If I want a nude/brown tint, I go with Fresh's Sugar lip balm in Honey. If I want a little more pop, I use Korres' lip butter in Mango and for a natural look, I use Rosebud Strawberry lip balm (I also have the Rosebud mint at work). They all smell delicious and have some serious moisturizing power!
Cleansing: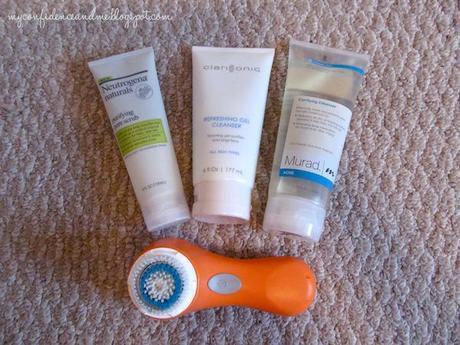 I'm on a perpetual hunt to find the perfect skincare routine that will deal with my extra oily (but still sort of combination) skin, will minimize my pores and blackheads, control acne, and hopefully cut down on the oil. So far, it's been futile, but these things have been helping.
- Clarisonic Mia - Seriously, listen to what everyone says: they're great! Makes my face so clean and it's definitely helping with the pore/blackhead situation. Right now I'm using the deep cleansing brush head
-Neutrogena Naturals Purifying Pore Scrub - I used this in the morning when I want a good scrub. It's refreshing and works really well without being drying. I use it either alone, or with my Clarisonic.
- Murad Clarifying Cleanser - I also use this in the morning when I don't use the scrub. I use it with the Clarisonic. So far, I really like it and I'm interested to try the rest of the Murad acne line.
- Clarisonic Refreshing Gel Cleanser - this is what comes as a sample with your Clarisonic (this isn't the sample, it's full-sized). It's really refreshing and contains willow bark, which is a natural astringent and source of salicylic acid.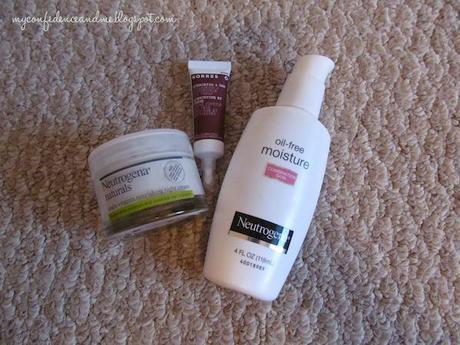 As we all know, moisture is really important. I am trying to beat my oily skin with moisture, but so far I'm having no luck! However, I'm sticking with it. Every night, post-face wash, I use Neutrogena Natural's Multi-vitamin Nourishing Night Cream. It's surprisingly light, and leaves my skin really soft. It also has lots of vitamins! In the morning, I use Neutrogena's Oil-Free Moisture for Combination Skin. It's supposed to moisturize what needs it while preventing oil where you're oily. I'm not sure if it's working yet...  Both morning and night, I've recently been applying this Korres Anti-aging eye cream that I received as part of Sephora's 500pt gift. I really like it! It's not too heavy, smells nice, and has been keeping my eye area nice and soft. And yes, I know, there's no SPF in any of these. I'm working on it, I'm working on it.
Well, that's my routine. This was really wordy! I really like the majority of these products, so if you've got any questions about them, feel free to ask. Also, if you've got recommendations of things I should try, let me have them!