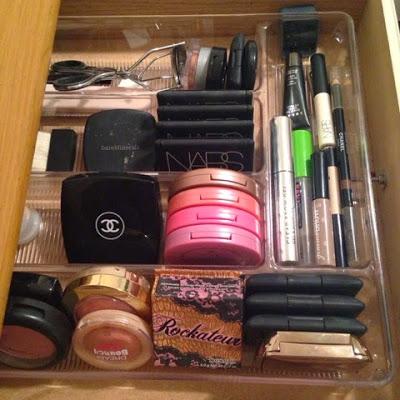 From past posts, you may know that I have a little desk that I store my makeup on [and in]. Over the course of the last few months, I really have been trying to better organize my stash collection, allowing me to be able to see what I all have and use it all regularly. [I'm such a visual person!] But, its tough. I'm on a college girl budget, working literally one time a month (womp, womp), so large, fancy organizers are not in my foreseeable future. Instead, I like to find other items to put to use. 
I found this clear plastic office drawer organizer at TJ Maxx for $7.99 and it fits my small desk drawer perfectly. Beforehand, I wasn't utilizing this drawer for makeup storage. It was mostly filled with receipts, post its, and other clutter... Now it houses my most used blushes, eyeshadow duos, brow products and various tools & brushes.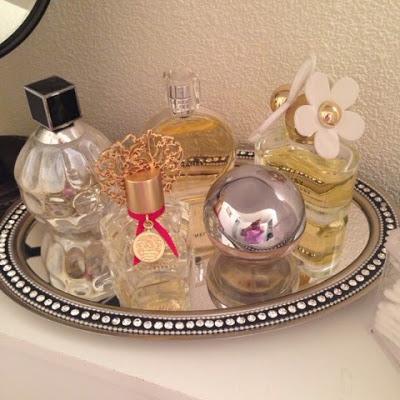 Moving into the bathroom, I found this little mirrored tray at Target for $9.99 (temporary markdown) and it is now the new home for my 5 little pretty friends. While they looked fine without the tray, I love the touch of glam this tray adds as well as making the perfumes look and feel "grouped". If that makes sense?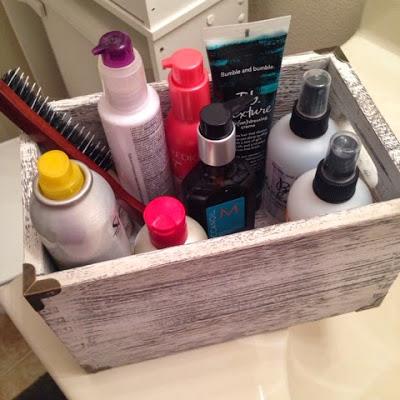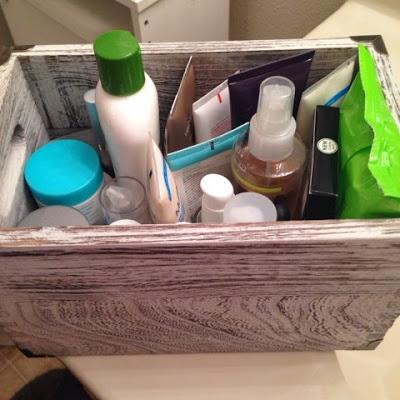 Next up are these two little wooden crates I found at TJ Maxx for $5.99 each. Beforehand, I was using a wicker basket to hold all of these items collectively, and lets just say it was always a hot mess after getting ready. So I moved the wicker basket to house lotions, self tanner, nail polish remover and my back stock of shampoo, body wash, etc. under the sink.
One basket holds all my skincare products and the other holds my hair products. Again, because I am such a visual person, this really helps me see all the items I have and helps me use them all more frequently. So these baskets have been great!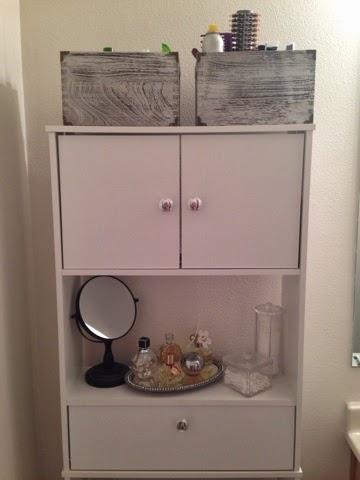 Here is a better look at how things are currently organized, with my new containers. I personally don't like that this is starting to look like the leaning tower of beauty hoarders paradise...but my bathroom is exceptionally tiny [literally no counter space], and I'm working with what I got.
The 'over-the-toilet thing' (what the heck is this called?) is from Target.
Acrylic q-tip and cotton pad holders are from Amazon-- so cheap and handy!
Mirror is from Target.
What makes great organization pieces for you?
If you have any tips/tricks for me, please let me know! :)
Find me on Twitter & Instagram: @carrieberschman