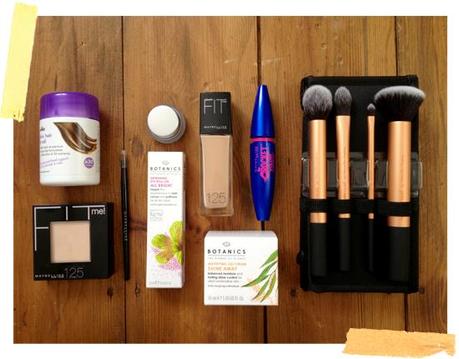 I ended up spending too much money in Boots on January payday. Oppsie! I thought I would share with you what things I bought. I've had them for a week or two now so I have started to get an idea of what they are like (starting from left to right):
1. Wilko Skin, Hair and Nail One a Day Tablets - I bought these vitamins to try and strengthen my nails as they have become weak. I'm convinced it's where I have been painting them a lot lately. Fingers crossed they will make my hair grow like Rapenzels in time for summer.
2.
Maybelline Fit Me Powder
- This best part of this product is that it comes in double layered packaging. It's perfect for on the go as the top half contains the power and a mirror whilst the bottom half contains the applicator.  The product is a good match to my skin, but it doesn't hold make up as well as cheaper products like
Rimmel Stay Matte Pressed Powder
. I bought it in shade 125, which is one of the lighter ones but there is a wide range available.
3.
Maybelline Eye Studio Lasting Gel Liner
 - I don't normally try anything different to my
Collection 2000 Fast Stroke Liquid Eyeliner
, but the Maybelline one was on offer so I thought I would try something new. The gel solution is a good concept and comes with a great brush. However, I'm finding it quite hard to get it as precise as normal, but I'm sure with a bit of practice I will improve. I don't think it's worth paying full price for, although if you see it on offer and want to try something new then it is a fun product.
4. Botanics All Bright Refreshing Eye Roll-On - Using this product after cleansing is so refreshing and a great product to use day and night. I wouldn't recommend it if you have sensitive skin as it tends to sting slightly and tighten the skin. It is great to use before bed as it really soaks well into your skin without any massaging. The cold roller ball applicator is also great in the mornings to wake you up and help get rid of dark eyes and puffiness. I managed to get it during a 1/2 price sale so it was definitely well worth it. 
5.
Maybeline Fit Me Foundation
- I have never had a Maybeline foundation but this one is great. It is really easy to apply and isn't too thick. You don't need much to get full coverage, and it seems to hold for most of the day. I bought it after seeing a review of it on
Tanya Burr's blog
. 
6. Botanics Shine Away Mattifying Gel Creme - This product smells really good and is a really nice texture. It's a super smooth gel so doesn't feel too heavy on your skin. However, I have noticed that when I use it as a moisturiser any make up that is placed on top of it tends to clump and stick in blotches. It might be better to use it if your not going to have a no make up day and just want to feel revived. I'm not 100% sold to this product yet so watch this space.
7.
Maybeline Rocket Volum' Mascara
 - I'm not normally a fan of comb mascara brushes, and usually prefer big round applicators. This product surprised me as the applicator is actually really good. I bought this mascara in 'very black' but it's available in all the usual shades. It's really cheap too so you can't go wrong! 
8. Real Techniques Core Collection 1403 - I have never owned a complete set of brushes before, but after having seen this set rated so highly on so many beauty blogs I thought it was time I gave them a go. I bought the core collection as it's the only way to get your hands on the buffing brush. This is definitely my favourite brush and I use it to apply liquid foundation. It is so much easier than using your fingers or a sponge and gets a smoother coverage. I have been totally converted, and I think would be lost without it now. The set also includes a
detailer brush, a pointed foundation brush, and contour brush. This set is definitely my top item from this expensive haul.