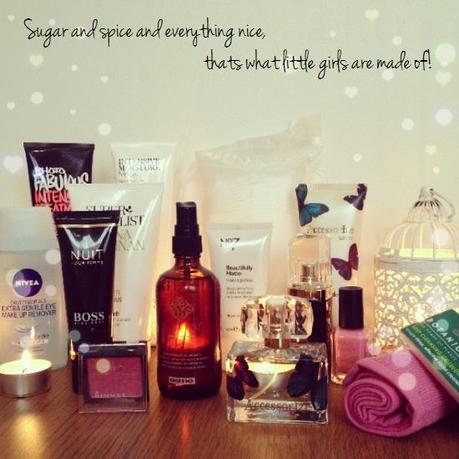 I know I don't normally do beauty posts but after seeing all my dazzling new products lined up together, I thought it was a must. It seems over Christmas and New Year I have doubled my collection of beauty products. I don't usually spend much money on products but I was inspired after receiving some amazing gifts for Christmas (thank you everyone!). Lately I've been watching lots of beauty/make up vlogs and have picked up a few recommended items from peoples top products for 2012. I'm a student and have managed to buy these on my budget so I'm sure you can too. My top recommended products from this haul are definitely Osmo Berber Oil Hair Treatment wit Argan Oil and James Brown London Intensive Moisture Mask. As I have recently gone back to a slight dip dye on my hair its made my ends a lot dryer, but after using these two products my hair is left feeling silky smooth. If your only going to buy one product then I would make sure it's one of these two.
(From left to right) Nivea Extra Gentle Eye Make Up Remover, James Brown London Photo Fabulous Intensive Gloss Rescue, Hugo BOSS Nuit Pour Femme Body Lotion, Superfacialist Tea Flower Cleansing Wash, Rimmel Lasting Finish Mono Blush, James Brown London Intensive Moisture Mask, Osmo Berber Oil Hair Treatment With Argan Oil, No 7 Beautifully Matte Shine Free Make Up Base, Accessorize Enchanted Fragrance (part 1 of 2), Hugo BOSS Nuit,  Accessorize Enchanted Moisturiser (part 2 of 2), Barry M Nail Paint (in baby pink np119), pink flannel from boots (no longer in stock), Botanics Deep Cleansing Cellulose Sponges.
What are your favorite products that your using at the moment? I would love to hear from you.