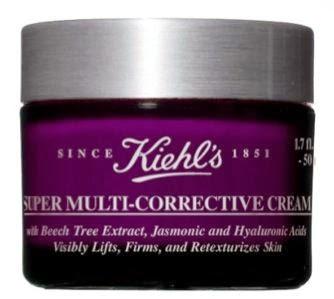 Did you know that younger skin and aged skin behave quite differently? When damaged, young skin takes 
only 6 hours
 to recover and repair itself.Alternatively, aged skin takes 
over 30 hours
This is because our cells 
also age and become less resilient to internal and environmental aggressors thus causing a loss 
of elasticity, wrinkles and rough texture. 
As aging skin repairs itself more slowly than younger skin, Kiehl's chemists opted to address multiple signs of aging simultaneously in order to provide the most efficient results.
Instead of focusing on the individual concerns related to aging skin, Kiehl's took a multi-functional approach by targeting multiple key signs of aging.With Kiehl's cutting edge formula and proprietary tri-active technology, 
Kiehl's Super Multi-Corrective Cream 
is clinically demonstrated to
simultaneously lift, firm, visibly redefine skin contours and re-texturize skin within 2 weeks
with double efficacy shown within 4 weeks.
In an industry achievement, Kiehl's have successfully formulated the super corrective cream using 
three anti-aging ingredients
 that have 
never before
 been formulated together in a cream base t
o act as a harder working, multi-tasking anti-aging solution, one that easily fits into a busy woman's daily routine. 
L
ike our fan page on Facebook
here
,
or follow My Vitrina on Twitter
here
*Photo: Courtesy of Kiehl's