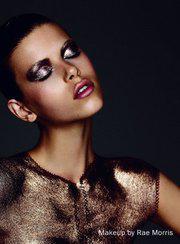 Image c/o http://www.internationalbeautyexpo.com.au/

Hey there peeps!

:-h

  Well I am just back from my awesome weekend away, attending the

Sydney International Spa & Beauty Expo.  This is the second year I have had the privilege of visiting the prestigious two-day event at the SydneyConvention & Exhibition Centre in Darling Harbour.  The expo is the largest event in Australia for the beauty industry, featuring the latest and greatest in products, treatments and equipment from some of the best brands and suppliers in the country.  With over 250 exhibitors, let me tell you, this expo didn't disappoint.  ;)  Including brands such as ASAP, Dermalogica, Ecoya, Jane Iredale, Orly, and Youngblood to name a few; it is a beauty connoisseur's dream come true, with all that beauty stuff in the same place at the same time,

yeah boi!!!

.

\:D/ 

I am talking skin care, cosmecuticals, natural & organic, makeup, haircare, tanning and all sorts of tools of the trade, you name it; '

Everything Beautyful

' is all on display at the expo. yay

:D

Image c/o http://www.internationalbeautyexpo.com.au/

This year I was more prepared than I was last year, knowing that there are certainly lots of bargains to be had at this event over the course of the weekend.  Therefore, I made sure I had a few

$$$

spare for just a tiny little splurge, which is more than I can say for last year,

d'oh!

  :-O  

#-o

  Yeah, yeah I am '

unfortunately

' on a super tight budget, being a stay at home mommy and all, but considering I don't '

normally

' go out and treat myself, this was classified as an exception 

:-" :>

  I am quite proud of myself actually, because I didn't really '

go to town

' buying up a storm, as I have recently embraced a

HUGE

reality check and am avoiding any '

unnecessary

' beauty purchases :-t (

well TRYING to, LOL

).

:))

  It had to be done, if you saw the amount of beauty booty I have laying around my house you would honestly fall over,

ha-ha

.

:)) 

I could '

easily

' open my own store :-O  But seriously, enough is enough!  I hate wasting anything and buying more stuff just for the sake of it, coz it looks so

prrrretty

, or someone else claims it's good... etc etc is how I landed in this boat in the first place, so it's

OFFICIAL

, I AM ON A SPENDING BAN!!!

[-(:(( 

But……it IS cool to buy anything that needs replacing or things I don't already have (

phew,

#:-S

  it's impossible to just go cold turkey right,

>:) 

hehe

).

;))

So now, onto the exciting bit,

ha-ha

,

:)) 

Here is what ended up in my mini haul from the

expo

this year!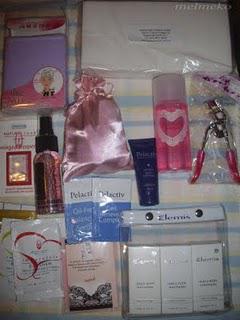 Beauty Expo, Mini Haul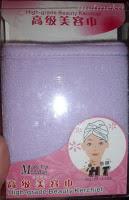 Make Up Thing - High Grade Beauty Kerchief

Ok, What the??? 
:-/
Well as it turns out, the
Make Up Thing - High Grade Beauty Kerchief
is just basically a purple, cotton/elastic headband to use for makeup/bath/beauty.  It is one size fits all and has one of those velcro fasteners. Not exactly a fashion statement,

LOL
:)) but quite useful all the same and for $1.60 I took the bait and got reeled right on in, haha
:))
  Yeah well, I guess I am just a sucker for anything novelty,

shh
:-$  ;)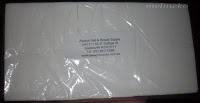 Makeup Sponge Wedges
I have never tried makeup wedges before but considering I LOVE
:x
my Beauty Pod, which looks similar to the soft sponge of these wedges.  I thought these might be a super budget alternative.  There is like 32 in a pack, so talk about value, these will no doubt last me for forever and a day,

ha-ha
:))

Designer Makeup Tools - Brush Cleaner

Scandal - Nail Polish Remover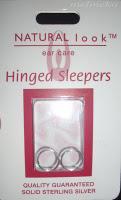 Natural Look - 8 inch Hinged Sleepers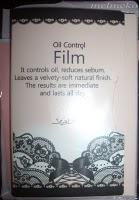 Scandal - Oil Control Film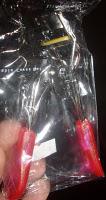 Red Eyelash Curler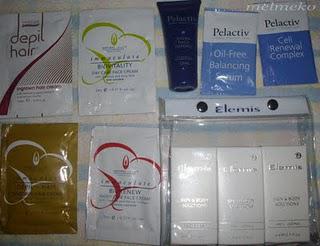 Some Samples I picked up too :)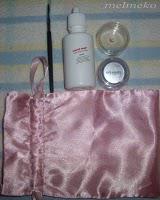 Eye Kandy - Basic Kandy Bag
I am loving the
Eye Kandy
Eye & Body Glitter. :x  With a stay-put base this glitter stays on all day with no flaking! (*)  I first saw this brand last year at the
expo
and wanted to get a demo done, but their stand was constantly jam packed with people congregating to have a test drive. :-w  I admired the legion of fans who were easily spotted flaunting their vibrant, colourful kandy liners as they made their way around the event.  I am sure every second person I passed was sporting this new-found bling,
hehe
. ;))  This year I wasn't going to miss out,
LOL
:)) so, I bee-lined straight to the
Eye Kandy
stand nice and early and this time I finally got my whack too,
woo-hoo
. <:-P  I was so impressed with the results so I purchased myself a basic starter set to take home and plan on getting some more gorgeous shades further down the track.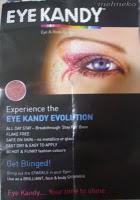 Slightly squashed brochure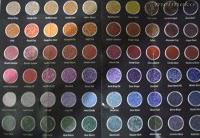 Some of the intense glitter varieties available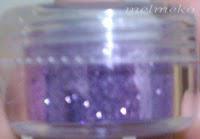 I chose my favorite hue - Purple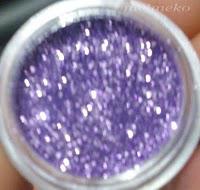 Bright and Bold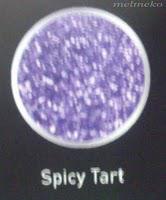 Spicy Tart
The name seemed fitting also,
ha-ha
, :)) I believe I could be considered as a bit of a spicy tart myself,
LOL
   :-j 
Anyway, that is my Sydney International Spa & Beauty Expo done and dusted for another year.  Now time to kick back and play with some of my new beauty booty. ;)  Should keep me entertained for a while now and it will keep me satisfied so I need not dwell on my spending ban, LOL 
:))  Did anyone else venture to the expo this year too?  Have you ever been to a beauty expo anywhere else before?  Let me know your thoughts. Do you agree it's the biggest Temptation with a capital T or what?  hehe ;))  How good is your self control?
All images in this blog are my own, other than the two generic images from the Sydney International Spa & Beauty Expo website.