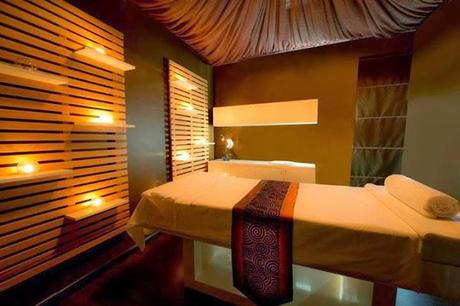 Are you ready to hit the festive parties? De La Mer Day Spa is here to help with a selection of beautifying packages for the month of December.There is also a thoughtful 20% discount on the packages, so you can still look your best at the most expensive time of year.Not only that, but the treatments will get you fully into the festive mood with their warm Chrismassy aromas such as pumpkin, cinnamon and chocolate.
Little Black Dress
The perfect precursor to a night on the town! This quick all-over makeover can fit into any busy girl's schedule in preparation for the evening ahead.A chocolate body buff followed by a chocolate anti-stress self-heating wrap leaves skin super soft, smooth and glowing.As perfect for an on-the spot treatment for a last minute date as it is for advanced preparation for the party season.
Chocolate Cheer
Festive indulgence at its best! Begin with a chocolate, sugar and Shea Butter buff, which will leave skin glowing.Then unwind with a chocolate body massage before trying a warming and relaxing chocolate body wrap.This cocoon of chocolate with lashings of Shea Butter will hydrate your skin beautifully, and you will walk out with the smoothest silkiest skin you've had all year.
Festive Facial
Enjoy a deep cleansing clarifying facial, suitable for all skin types, which will exfoliate and expel any impurities, whilst nourishing your skin with peptides, vitamins, enzymes and nutrients.The pumpkin mask provides your skin with a protective shield that renews and hydrates.A warming cinnamon and vanilla spice body scrub to follow will leave you feeling refreshed and full of festive spirit.
Post-Party
A great 'pick me up' for the tired and partied out, or for those just wanting to feel reinvigorated. Soak up the natural benefits of a green tea and seaweed bath, followed by a detoxifying peppermint and mocha body wrap.You will leave with your skin feeling energised, hydrated and nourished and hopefully with a spring in your step too.
For more information on these fantastic packages and to book please call +971 4 328 2775. Packages are valid for the month of Dece
mber 2013 only!
L
ike our fan page on Facebook
here
,
or follow My Vitrina on Twitter
here