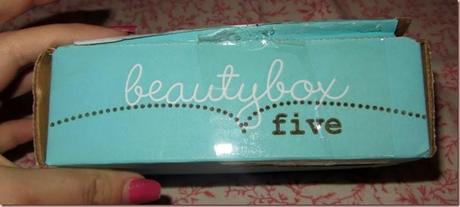 Ciao dears,
   I'm sure I promised I'd try to post the ten million things I've been meaning to post the last time I blogged…and I will.  I'm done my first semester of graduate school and soon elementary schools will be closed for Christmas break, so I'll have off for a few weeks.  I'm going to force myself to sit and blog for a few hours when I'm not baking cookies next week.  So, anyway, I wanted to review this awesome box of fun girly things I received in the mail.  It's a beauty subscription box called Beauty Box 5.  I'm sure you've heard about some type of subscription box like this before.  It's a pretty neat and fun idea.  Basically, you sign up and pay to receive a box filled with 5 new beauty product samples (travel, deluxe, or full sized) once a month (or quarterly or yearly, if you choose!).  The products will be "a mixture of luxury, commonly known brands, niche brands, eco-conscious and even vegan brands" as well as including "a selection of makeup, hair care, skin care, nail care, fragrances and beauty accessories."  It's a fun way to try new products that you may not have thought of even looking at before. 
   Their prices are either $12 monthly, $30 quarterly, or $99 a year.  There is also a special promotion going on now through December 31!: "Receive a free $5 gift card to SOAP.com when you sign up for a monthly subscription.  Receive a free $10 gift card to SOAP.com when you sign up for a quarterly subscription.  Receive a free $15 gift card to SOAP.com when you sign up for a yearly subscription."  So, what was in this month's Beauty Box 5?, you ask.  Let me show you.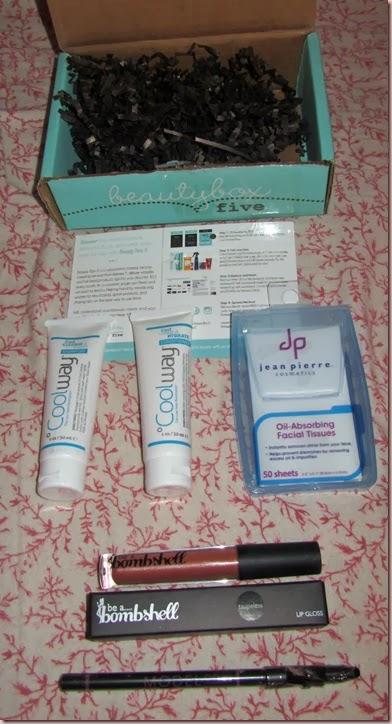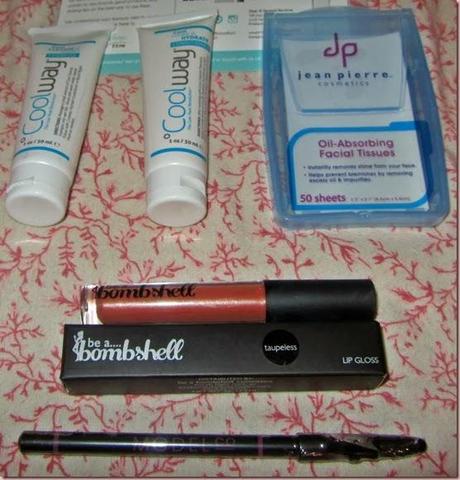 There was an interesting selection of products, both hair and makeup ones, some of which I hadn't seen before.  The obx included:
Jean Pierre Cosmetics – Oil Absorbing Facial Tissues (50 count)
Coolway Cool Cleanse &  Hydrate Shampoo (1 oz)
Coolway Cool Cleanse & Hydrate Conditioner (1 oz)
Model Co Black Eyeliner with a built in sharpener (full size)
Be a Bombshell Lip Gloss in Taupeless (full size)
   My favorites were the Be a Bombshell lip gloss in taupeless, which is a gorgeous gold/taupe color, and the Model Co. black eyeliner , which was very dark, intense and stayed on pretty well throughout the day.  I've been using these two quite often throughout the past week and a half or so.  Next, there were oil absorbing facial tissues from Jean Pierre cosmetics.  These are handy to keep in your purse if you tend to get a bit oily throughout the day like I do, so I liked these as well.  The Coolway shampoo & conditioner were pretty nice as well.  I liked that they are sulfate and paraben free as well as made for those who use a lot of heat on their hair.  They both smell pretty and left my hair feeling soft.  All in all, I was very happy with the selection of products in this box.  This would be a cute gift idea for the beauty obsessed in your life. 

Check out their website for more information or to purchase your own Beauty Box 5:
https://www.beautybox5.com
.   I'l try harder to be back soon with more posts, lots of times!!  Harass me on my
blog's facebook page
or something to remind/guilt me please! lol!)  I hope you're al enjoying a lovey holiday season!
**As I mentioned earlier in the post, I received these products complimentary from Beauty Box 5 for reviewing purposes.  Of course, the opinions on my blog are always my own and uninfluenced by outside sources/companies.

**
   ♥♥ Xoxo Gabriella