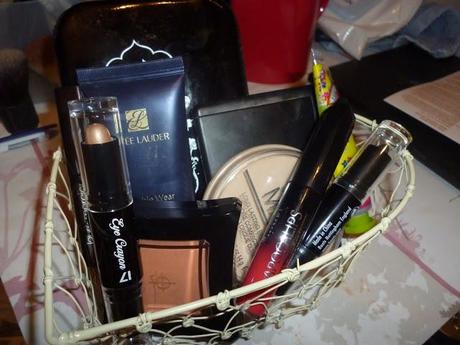 I haven't done a beauty basket post in a week or two, so I thought it was about time I did. There is a real mixture of some old well loved favourites and some brand new products.
So at the moment in my basket I have an Urban Decay Dangerous Palette which I picked up in the sale after Christmas for £13. Bargain. I have been a bit naughty with this and have hardly used it, so I really must.
Another new product is the Rimmel Apoalips in Steller. This is a gorgeous bright coral pink that really adds something to your look. These are worth all the hype they are getting at the moment. Really strong pigmentation, last well and are not to drying.
A few old favourites that I have included are the Estee Lauder Double Wear Maximum Cover Foundation, Elf Warm Bronzer and the Rimmel Stay Matte Powder. All three help to give a full coverage, flawless skin. They really are my go to products that I couldn't be without. 
A lovely Christmas present I received and have been enjoying is the Figs & Rouge Lip Balm in Cherry Blossom. This is 100% natural tinted lip balm that gives a lovely tint to the lips as well as adding moisture.
I think I may have found a new favorite mascara that has knocked Clinique High impact off the top. The Laura Mercer Full Blown Volume Lash Building Mascara is amazing. It adds so much volume and length to your lashes to give you a real dramatic look which I love from my mascara. A big thumbs up from me.
Another product that I got in the sale and kind of neglected was the 17 Eye Crayons. These are a soft crayon type eye shadow that are great for a quick eye look.
Last but not least is a blush by Illamasqua in Expose. I have had this for sometime and I really love it to add some warmth to my skin. It is a matte blush that is a orange/terracotta type color that really suits my skin tone. I also find it last on the skin all day.
What products have you been loving recently?