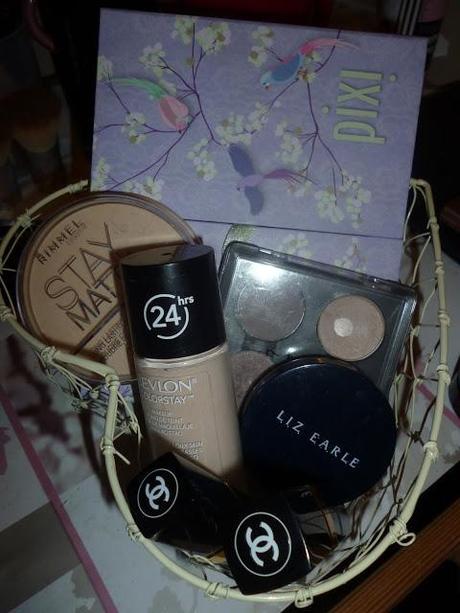 In this weeks beauty basket there is a mixture of some old and new. I of course have got the Pixi Early Bird Palette that I recently reviewed here. This is all you need really for numerous looks.
For base products I have pulled out some old faithful products, Revlon Colorstay Foundation and the Rimmel Stay Matte Powder.  Both help to achieve  flawless, high coverage base. Brilliant for when my skin is being a pain.
I decided to dig out some Mac eye shadows as my Mac palette has been well and truly forgotten recently, one shade that I have rediscovered especially for filling in my brows is Copperplate. A gorgeous matte ash/grey color.
The Liz Earle Blush in Nude is one of those products that I bought used a few times and then it got hidden in my draw. I love this blush so it is silly that I don't use it very often. It is one of those muted pink/brown blushes that sculpts your cheeks perfectly.
Lastly two Chanel Lipsticks. Evasion is a Rouge Coco Shine that is a sheer, peach/pink that gives a lovely glossy nude lip. Lastly the Rouge Coco Hydrating Creme Lip Colour in Chintz, this is a perfect, my lips but better shade that is not drying on the lips at all. I love how I can just apply this without a mirror.
What products have you been discovering recently?