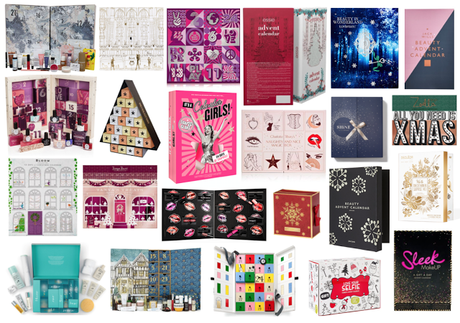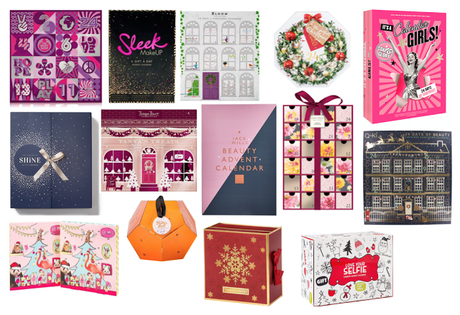 If you know me, you will know how much I love Christmas so when Christmas and beauty combine, I basically explode in excitement. I have always loved the beauty advent calendars, I had the Tanya Burr one last year and I definitely want to get another one this year. I can't believe how many there are this year, there is one for every price range too! 
Under £50
Mad Beauty 12 Days of Bath and Body £10.99: Includes body washes to nail files. 
Beauty & The Beast 12 Days £12: inspired by the 1991 Disney classic. Includes a selection of products from nail files to hand creams. 
Flutter Beauty Advent Calendar £16: For the lighter younger audience, includes mini surprises for the eyes, lips and nails. Studio London 12 Days of Christmas £16: Suitable for vegans, includes nail polishes, and makeup. 

Q-KI Cosmetics £19.99: Not a brand that I have heard of before but I really want to see whats behind each door! 

Mad Beauty Christmas Light Up £19.99: includes beauty must haves and nail polishes. Technic Love Your Selfie Advent Calendar £20: Includes a little bit of everything from hair brands to lipglosses. Superdrug Bloom 12 Days of Christmas £24: Behind each door is one of 12 mini Eau de Toilettes. Technic Glitter Ball £24: Includes a little something behind each door to get you ready for the party season. 

Yankee Candle Wreath Advent £24.99: Includes tea lights in six scents as well as a tea light holder. 

Tanya Burr 12 Sweet Days £30: Pretty much identical to last years. Includes nail polishes, glitters and lip glosses. Jack Wills £35: Out on the 18th of September. Includes skin care, hair and nail products. 

Sleek A Gift a Day £35: Includes everything from matte lip products to contour kits. Coming soon to Boots. 

Benefit 12 Days £34.50: Includes miniature must haves. Available from November. Feel Unique 12 Days of Beauty Calendar £35: Launching on the 18th of October, you can join the wait list now. Includes the likes of NYX and Elizabeth Arden. Marks & Spencer £35 (with £35 spend): Back for 2017 with the likes of Eyeko and Nails Inc. Yankee Candle 3D Advent Book £34.99: Includes 12 tea lights and 12 votives. Soap and Glory It's a Calendar Girls! £40: Coming soon to Boots. Includes makeup and body products. 

Laura Ashley Royal Bloom £40: Includes body and bath products. Coming soon to Boots. 
The Body Shop

 £45: Three different versions available for different price points.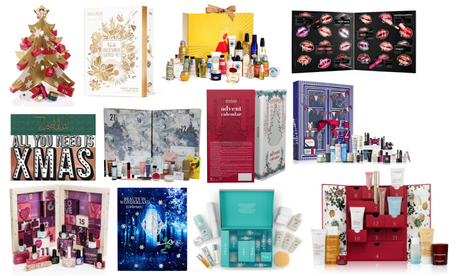 £50 - £100
NYX Lippie Countdown £50: For all your lip product needs! From lipsticks to matte lip creams. Out on the 18th of September. 
Zoella Lifestyle 12 Days of Christmas £50: Includes a full sized candle and other goodies. I have a feeling this might be a star gift at Boots. 
Ciate Nail Polish Advent £50: Includes polishes, nail toppers and extras. Available from October 2017. 
ASOS The Advent Calendar £55: Includes 24 products and a discount code. Includes brands like Smashbox and Eyeko. ASOS The Grooming Advent Calendar £55: Has a mixture of products for hair and skin. 24 products and a discount code. 
Rituals 3D Advent Calendars £59.50/£79.50: Two different ones available. Liz Earle 12 Days of Christmas £66: Includes best sellers like Cleanse and Polish. Available from mid-September at Boots and John Lewis. You Beauty £60: Out on the 1st of October. Has a huge £245+ value. Clarins 12 Days Advent £60: 12 Days of Clarins best sellers. Available from the 1st of October. Decléor Hello December Surprise Me £65: Includes a selection of miniatures and three full sized products. Bare Minerals Box of Wonders £75: Available from mid-October. Includes mascaras, lipglosses, blushes and more! Look Fantastic £79: Available to preorder now and has a £300+ value. Includes nine full sized products. Essie Nail Polish £80: Has seven full sized products, 12 minis, nail polish remover and three mani surprises. Five shades are exclusive to this advent calendar. L'Occitane £89: Available from the end of September. Includes a huge range of products from fragrance to skincare. 
Kikki.K Stationary Lovers £90: Includes the most luxury products from the brand such as notebooks, pens and candles. Available from Selfridges in October. 
Kiehls £95: Includes a selection of travel sizes including the Midnight Recovery Concentrate. Exclusive to Selfridges and available from October. 
Selfridges £95: This is a L'Oreal Luxe advent calendar and includes the likes of Urban Decay and YSL.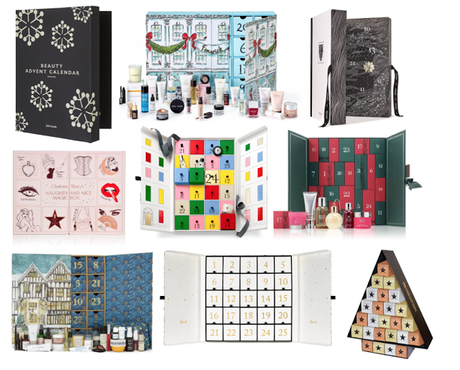 Luxury Beauty Advent Calendars (£100+)
Makeup Revolution £120: My personal opinion on this..why is it so expensive? I'm honestly a little confused by the price tag, especially considering its the same price as the Selfridges one but each to their own. 
John Lewis £149: Has a value at over £300. Includes the likes of NARS and Elemis. 
Charlotte Tilbury Naughty and Nice Magic Box £150: Includes makeup and skin care favourites. 
Fenwick £150: This is one of my favorite looking advent calendars this year. Includes the likes of MAC, Charlotte Tilbury and Bobbi Brown. Available from October, you can sign up to be the first to hear about it. Molton Brown £165: Includes some full sized products, mini candles and body products. Liberty £169: Available from the 25th of October. Includes some full sized products like a Diptyque candle. Harrods £250: Comes with brands like Huda Beauty and Brazilian Bum Bum Cream. Available from the 1st of October. Jo Malone £300: Available at Harrods from October, nationwide from November. Includes mini perfumes and body creams.Diptyque £300: A divinely scented advent. Available from November. 
__________
I will keep updating this as and when I spot new ones online! 
Which one is your favorite so far?