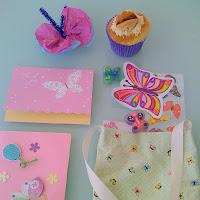 It's no secret that butterflies are beautiful, they are gorgeous in real life, and as a motif.  It was an absolute joy to go to a party some time ago where the 4 year old guest of honor had chosen butterflies for her birthday theme.  Together with her mother, she helped make many of the butterfly accessories for her party.
In my free book "How To Host a Themed Party" I explain that the best thing you can do with a motif (design element or idea) is repeat, repeat, repeat!  And that's what this party did really well, in a lovely, understated way.
Here's some ideas that you can borrow from the party - and remember, you don't have to have a butterfly party (although if you can't think of a theme, it's a goodie!), you simply have to replace your theme for hers;
Invitations
- hand made and adorned with themed stickers.
Decorations
- the birthday girl and her mom had made lots of butterflies out of coloured paper and pipe cleaners, and these were stuck amongst the streamers and balloons.
Craft
- there was a craft table where the children could make their own butterflies, as well as sparkly masks.
Party Dress
- made from butterfly fabric, with butterfly wings and headband as well - so cute!
Food
- there was a giant butterfly shaped cake made colourful with a giant candycane body and lolly covered wings, "oh, I'm gonna love this cake, 'cause I loooove lollies" said one little guest.  There was also plenty of garden-fresh treats and some butterfly cupcakes.
Games
- as well as pass the parcel and plenty of running around there was a toy that blew tiny twists of paper into the air, and the children ran around with small nets trying to catch the 'butterflies'.  There were also lots of bubble-wands left about for everyone to play with (and then take home).
Keepsake
- the take-home gift was a handmade fabric bag (from themed fabric), with themed notebooks, rubbers, pens, and stickers inside.
It was the perfect example of how a simple idea can make a lovely party theme, and a little bit of planning and careful purchasing can pull it all together.  A great idea, wonderfully executed.  Get inspired, and at your next get together, no matter how big or small, put a little bit of themed-magic to the test!