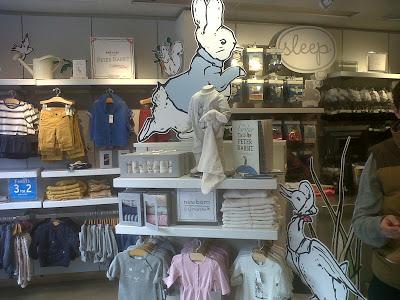 This is kind of a weird post for me to do, as I have never done a post on baby related products. I kind of thought that when I became pregnant that I would not post about maternity fashion or baby clothes, as Belle of the Ball is an outlet for me to talk about my love of fashion and beauty, and I didn't want to make it a pregnancy related blog.
HOWEVER, occasionally, I have thought it would be appropriate to discuss preggo fashion and maternity collections, so I have done the odd one or two. Thus far I haven't done a baby fashion post, but I have just become obsessed with a collection and I had to tell you guys about it, as it is so cute.
I am a huge fan of Beatrix Potter - I've been in love with her books and characters ever since I was a baby girl myself - particular favourites being Mrs. Tiggwinkle (that cute hedgehog in an apron and cap), Jemima Puddleduck and of course Peter Rabbit. I've spotted lots of adorable Beatrix Potter goodies to put in Titch's room, so when I was informed that Baby Gap were doing a Beatrix Potter limited edition collection, I started jumping around in excitement.
My lovely friend Jo quickly got me this adorable gray knitted baby-grow, complete with a little Peter Rabbit face on the front, before I had even seen the full collection.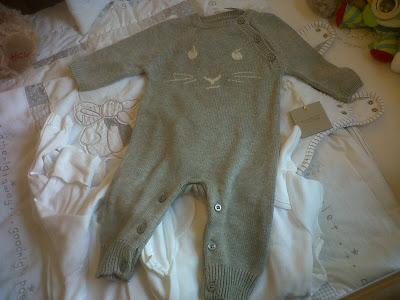 Thank you Jo
Yesterday, Darren and I went to meet some friends in Hampstead and I was determined to go to the Baby Gap on the high street and see the full collection...and maybe buy one or two bits (with two weeks to go, I think I'm entitled to finally start buying some clothes for Titch!).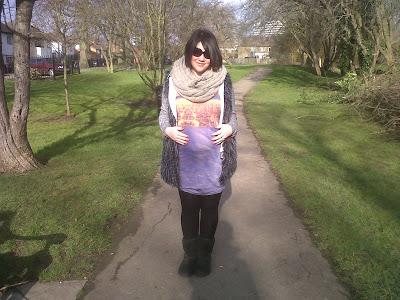 Me (and Titch) at 38 weeks
We went into the shop and spotted the collection immediately. Laid out with gorgeous cut outs of Peter Rabbit, Squirrel Nutkin, Jemima Puddleduck and more, the collection was split into baby girl's, baby boy's and unisex newborn pieces. Darren was so taken aback by the baby boy stuff, that he wished they did it in grown up sizes. From sweet baby-grows with character faces, to rabbit motifs on dresses and adorable pieces of knitwear to packs of bodysuits and knitted Peter Rabbit and Jemima Puddleduck hats.
I really love this collection, and whether we have a girl or boy, I will definitely be investing in a few more pieces (or a lot more!). In the meantime, we picked up this cute sleepsuit and the Peter Rabbit knitted hat, as we thought it would work for a girl or boy.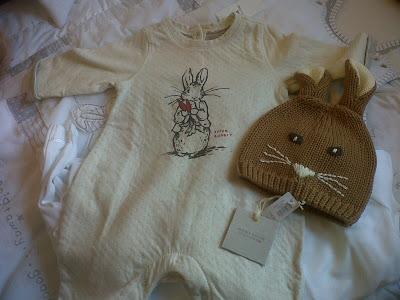 Titch's new bits :)
Here are a few pics of the collection and the layout - what do you think? Enjoy x