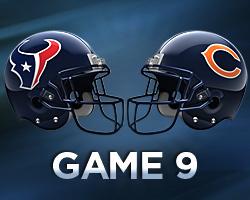 The Houston Texans (7-1) travel the the Windy City to take on the Chicago Bears (7-1).
This look to be one of the biggest match ups of the season.  Houston looks to make a deep playoff run and hopefully get back their playoff woes.  The Bears look to continue winning and get back into the Super Bowl.
Both teams have outstanding offense's and defense's.  Both ranked high in the NFL.  The defensive battle will got to the Bears.  They are #1 in takeaways and scoring off of takeaways.  They can pressure the quarterback and hold the receivers at bay.
Chicago Looks to improve on their six game winning streak.  And increase their lead over NFC North rival Packers.
Look for the Bears and the Texans to fight to the bitter end.
Bears +/- 3
DA BEARS!!!