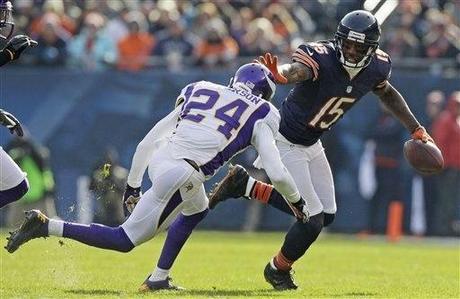 The Chicago Bears rebounded after two straight losing weeks verse division rival Minnesota Vikings, winning 28-10.
The Bears held Adrian Peterson in check the whole game. Put pressure on Christian Ponder and blocked a field goal.
Jay Cutler dominated in his return. Almost passing the ball at will. Cutler finished the game 23 for 31, 188 yards, 1 touchdown and 1 interception. Michael Bush added two rushing touchdowns along with his 60 yards.
After the second touchdown, the Bears read the Vikings field goal line-up and Adam Podlesh ran it in for the two point conversion.
The Bears and Vikings both recorded field goal blocks in the game. Bears got theirs in the first half while the Vikings got theirs in the second.
Despite all the good news with Cutler, the defense and the Bears winning, the Bears did suffer some injuries. Two big names, Charles Tillman and Matt Forte. They both suffered ankle injuries. Tillman went to the sideline during the first defensive drive and never returned to the field. Though he was seen instructing and cheering on his teammates. Forte went to the locker room after and awkward tackle. Originally he fumbled but it was overturned upon review.
Devin Hester suffered a concussion in the first half. Chris Spencer and Lance Louis both suffered knee sprains.
All players were able to walk off the field under their own power. That is a good sign for any injury.
The Bears will have the week to recover and prepare to face the Seattle Seahawks.
With the win the Bears improve to 8-3, Vikings fall to 6-5. The Vikings remain in third place of the division. The Bears had to wait for the conclusion of the Packers vs. Giants game to see where they would be placed. With the Packers (7-4) losing 38-10, the Bears hold sole possession of first place.
DA BEARS!!!