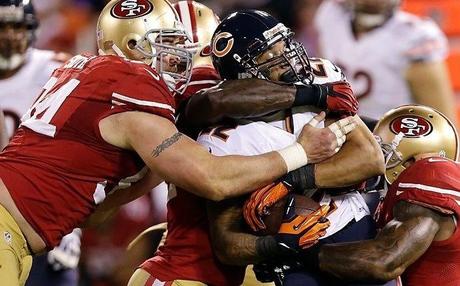 The Chicago Bears were pushed aside Monday night as the San Francisco 49ers tallied a 32-7 blowout.
The Bears were never able to get anything going both offensively and defensively. The Bears allowed for the first time on defense this year and opponent to score on their opening drive. Also giving up their first touchdown in the first quarter.
The game was slated originally as a battle of quarterbacks, Alex Smith vs. Jay Cutler. The week leading to the game though landed both Smith and Cutler on the bench with concussion like symptoms. This gave 49ers backup Colin Kaepernick his first career start and Bears backup Jason Campbell his 71st. Suddenly this was an all out defensive match.
The Chicago Bears defense came into the game allowing the second fewest points, most turnovers and having seven interceptions returned for Touchdowns. The Bears allowed 17 points on the first three drives by the 49ers. And the Bears were never able to recover defensively.
The lit offense did no fair any better. Jason Campbell threw two interceptions in the game. Was sacked six times, all be Aldon Smith. Smith now leads the league with 15 sacks on the year.
The Bears themselves were able to get four sacks. That was the only positive pressure they were able to get. The 49ers looked comfortable all game long even with their backup. The Bears were the complete opposite, confused many times on offense with their backup.
The only bright side for the Bears was in the third quarter when Brandon Marshall caught a 13 yard Touchdown pass from backup Jason Campbell.
The Chicago Bears host the Minnesota Vikings next Sunday in a divisional rival. The winner of the game will decide who is third in the division. A Bears win and Packers lose will propel the Bears back into the line #1 spot. Packers currently hold the tie-breaker over the Bears (based on head-to-head).
We have a week to get ready and hopefully Cutler will be ready to go.
DA BEARS!!!