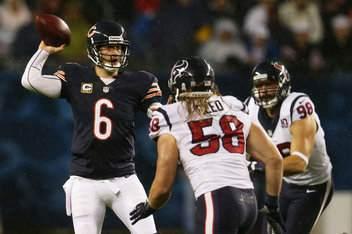 Jay Cutler about to release the illegal forward pass before getting hit. The hit proved to be the one that lead to him being benched in the second half.
The Chicago Bears and Houston Texans played in one of the sloppiest games, not by play but by weather.  The Texans were able to prevail 13-6 at the slippery Soldier Field.
The field played as an extra opponent to either team.  Both teams struggled at times with keeping their feet on the wet field.  The weather played a huge part in how both teams played the game.  Rain and wind were a major factor throughout the whole game.
Both teams came out just as sloppy.  The Texans were lucky that they were down by contact on the opening kickoff otherwise the Bears would have had a first and ten in their red zone.  That was a story just beginning.  Both teams combined for six turnovers, 4 by Bears and 2 by Texans.
Chicago was unable to produce any touchdown drives.  Robbie Gould connected on two of his three attempts, missing a 48-yard Field Goal that the wind blew into the goal post.
The Texans, now 8-1, connected on two field goals and were able to connect to Foster on a short Touchdown pass.
The story of the game, other than the Chicago Bears, now 7-2, is the possibility of Jay Cutler missing Monday nights' game against the San Francisco 49ers.
With about two minutes left in the first half, Cutler started to scramble from the pocket, right after he passed the ball, which was called illegal for crossing the line of scrimmage, Cutler to a hit to the head.  He lay on the ground for a few seconds before getting up.
Jay finished the half, but did not return in the second half to the sidelines.  Backup Jason Campbell replaced Cutler.  Cutler finished the game 7 of 14 with 40 yards and two interceptions.  Campbell finished a little better going 11 for 19 with 94 yards and no interceptions.
It is currently unclear how long it will be before he will return to practice.  He first has to undergo observation by team doctors and be cleared by an independent doctor not associated with the team.
Marshall was the main target in the game.  He was able to catch 8 for 107 yards.  Matt Forte added 39 yards on 16 carries with Cutler adding 37 on 3 carries, all first half.
The Chicago Bears have an extra day to recover from the loss they suffered.  They face the San Francisco 49ers, which tied the St. Louis Rams at 24, on Monday night.
DA BEARS!!!