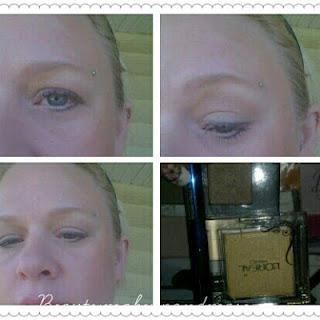 The bottom right pic is the colors that i used on my eyes.
I started with a primer-- Smashbox photo finish uva/uvb spf 15
   Lancome teint idole ultra 24h foundation
For contouring-- smashbox bronze lights in suntan matte
Blush-- Cargo--Coral beach
Bronzer-- All over face and down neck-- physician's formula pearls of perfection  multi colored light bronzer
Concealer--First--Gorgio Armani master corector #1
   second-- YvesSaintLaurent  Touche eclat Radiant touch
   third--- Bobbi brown pale yellow powder to set.
powder--MAC mineralize skinfinish natural  medim plus
For my eyes, I always prep the same. See a previous look for what i use.
Loreal paris wear infinite pressed eyeshadow single in sweet chemise( see pic above, Its the shadow with loreal on it lol) I used this all over the eye from the lashes to the browbone
From the crimson amulet collection palette from the dark shadows from nyx, i used brown color. Its the brown above in the pic. I put the in the crease.
 Eyeline-- Physicians formula  shimmer strips custom eye enhancing eyeliner trio for blue eyes. Its the blue eyeliner. I used this on my upper lash line and on 3/4 of the bottom lashes
Mascara-- I did apply lash primer from lancome. After that dried then i applied two coats of le chick flick waterproof lashes from nyx
On my lips-- Sugar coral tinted lip treatment
I hope that you enjoyed this look.
peace and beauty
laurie ann