Hey everyone!

 
As I have my classes 7 days a week from 9 am to 6 pm, I hardly get time to wash my hair. Sometimes I desperately need a wash because my hair feels limp, greasy and flat but I don't have enough time to volumize my hair and BBlunt's Back to Life Dry Shampoo comes to my rescue; Just spray on hair, massage and voila! you get gorgeous greaseless, voluminous hair in minutes.
Price: Rs 250 for 30 mL; Rs 550 for 125 mLCan be bought online at Amazon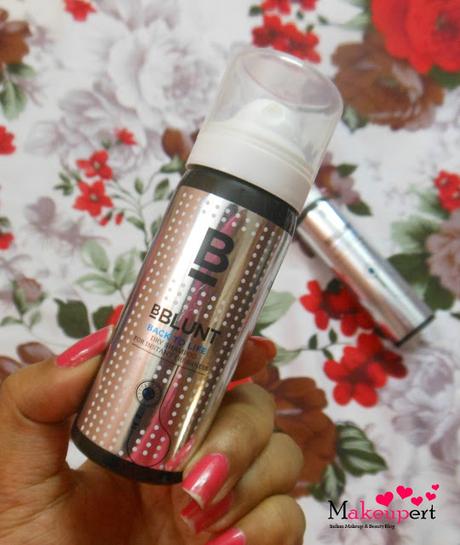 BBlunt Back to Life Dry Shampoo Review
What is a dry shampoo? 
This is the most asked question by many of my friends and relatives. So basically, a dry shampoo is an important product for your dry and greasy hair. I generally use it during emergency situation when I have some important errands and have to run in a hurry. A dry shampoo is basically a fine mist in a bottled can containing micro powders and oils that help refresh the scalp, taking away greasiness and adding life and volume to the roots of the hair that lasts for a short period of time.

 
BBlunt Back to Life Dry Shampoo – Review 
The BBlunt Back to Life Dry Shampoo for instant freshness spray comes in a midsized silver metallic can with transparent cap. The bottle is pretty handy and travel friendly as the cap shuts tightly and wouldn't open up easily. It sprays a fine mist which evenly coats the hair and has a weird smell which I don't like, although the smell dissipates after some time. 
I spray the dry shampoo directly to the roots of my hair from 5-6 inches away. After that I use my fingers to massage my scalp for a minute or two and work the product into the roots. The powder is very fine and wouldn't leave any white powdery deposit in your hair. After massaging, my hair feels less greasy and the roots get a little lift and volume.


BBlunt Dry Shampoo is a slightly milder product so you would need just a little bit to see the results.

 
The results lasts for just 3/4 hours and not something you can try on your hair for more than a day and this is not a substitute for ACTUAL SHAMPOO; instead a DRY SHAMPOO which need to be used in emergency as it does not require rinsing.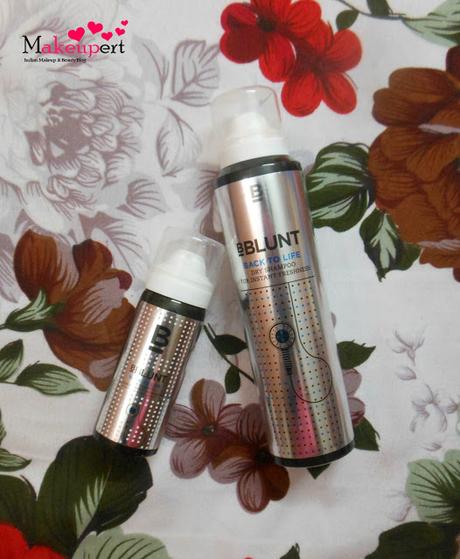 BBlunt Back to Life Dry Shampoo: Review, Price & Buy Online India
Overall Verdict 
The BBlunt Back to Life Dry Shampoo helps to add lift and volume to the roots, taking away greasiness and helps freshen up the overall look of the hair. It's easy to use and leaves no white powdery residue in the hair and delivers a stiff hold. This is indeed a unique product and the price offering is great, it is a must have in every girls vanity. This is definitely one of the best affordable dry shampoos in India. I absolutely love how pocket friendly these BBlunt hair styling products are and the Indian market definitely lacks some good hair styling products so it is good to see such affordable options. 
Highly Recommended! 
Rating: 4/5Buy online at Amazon.in

All the BBlunt products are available in travel sizes which are great if you want to try out the minis before going for the full sized product.