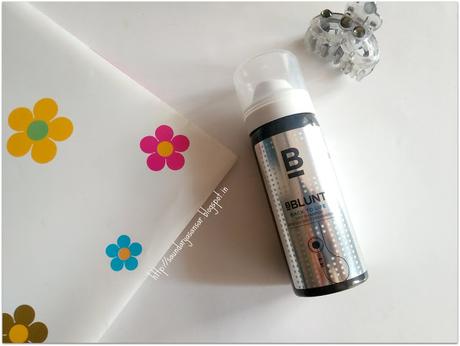 Instant freshness is now a spray away. This dry shampoo (no water required) does a smooth job of absorbing excess grease & grime and revamps your hair in seconds. Don't leave home without it.
BBLUNT is an Indian brand which has defined Hair Prepping and styling in India with its excellent product line. I can say that before BBLUNT, hair styling products were only limited to celebrity styling and that too with international brands. Nothing customised to Indian weather and hair type.
While reviewing BBLUNT Curl defining cream I got to know about the team behind BBLUNT - Adhuna & Osh Bhabani along with team of like minded people who had a strong belief- We at BBLUNT believe you have a mind of your own have hair that's your won.
Their 100+ years of experience gave India first Integrated three fold style system: Transform-Prep-Style.
So today i am reviewing one of their Prepping product - BBLUNT Back to life dry shampoo for instant freshness. (specially created for Indian hair)
key Ingredients- Micro-crystalline starch along with Ethyl Alcohol (95%), isopropyl Alocohol (5%)
Price- 30 ml for 250 INR and 125 ml for 550 INR, Available at nykaa.
Shelf life- 24 months.
Shake well before use. Hold can in an upright position, six inches away from the hair and spray evenly, close to the roots. Leave on for two minutes. Massage and brush thoroughly.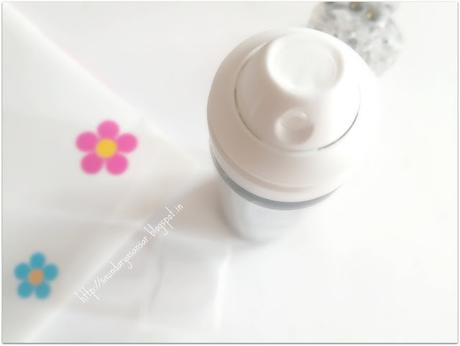 To me, cleaning hairs was washing them twice a week (at most) and since i have Dry curly hairs with a dandruff prone scalp, keeping scalp cleaner was a major issue. Dry Shampoo - was never i could think of. This is the first time i was using Dry Shampoo.
This BBLUNT Back to life dry shampoo comes packed in a spray can sealed with a tight plastic cap. Quite easy to carry in your bag as it is light & comes all sizes and with a sturdy packing.
The spray bottle looks pretty with silver and black accents with all the details about the product.
With frequent conditioning, my hair loses its volume and falls flat. If you want soft and smooth curls, you ought to have healthy scalp and voluminous hair. Deep conditioning nourishes hairs but also at times kills volume.
So here BBLUNT Back to life dry shampoo came to my rescue, I used this BBLUNT Back to life dry shampoo and found that my hairs gained the volume back. Also my scalp which gets itchy or gets layer of dandruff- is also taken care of, for a while. My curly manes gains its shine with life back to my curls.
Being a working women, i am always in hurry and hardly left with time to wash my hairs. I need to style my hairs but my hairs become dull-flat so i need instant cleaning- Just pull the cap and spray this on your hairs (close to roots), you are done.
While travelling, its not possible to keep hairs clean by daily washing so keep this in your vanity for instant solution.
Also if you are fond of styling your hairs often or even leave them untied, this is an excellent product which preps hairs for styling. Just spray the shampoo before starting.
My Hubby who has straight & oily hairs gets greasy,flat & lifeless quite often. The BBLUNT Back to life dry shampoo for instant freshness made his life easier and fresh, shiney, bouncy hairs are just a spray away for him too.
But yes, this is not a substitute for regular washing. Keep your hairs healthy with regular oiling and washing but keep them style easy with BBLUNT Back to life dry shampoo for instant freshness.
Overall BBLUNT Back to life dry shampoo for instant freshness is a great product & a quick option to keep your manes shiney, fresh and bouncy that too with ease. Highly Recommended!
Have you tried BBLUNT Back to life dry shampoo for instant freshness as yet? What's your view about it?
*PR sample sent in exchange of my honest reviews.