At the beginning of January, BBC Radio 1 released their longlist for the Sound of 2013, where US sister act HAIM were crowned the winners and electro pop duo AlunaGeorge were runners up. Continuing with their support of new artists, Radio 1 presented a further look into the future of music for 2013 with 'Future Festival'; a live event showcasing some of the brightest new stars of 2013. This year's line up included: The 1975, King Krule, Mallory Knox, Palma Violets, Laura Mvula, A$ap Rocky and Disclosure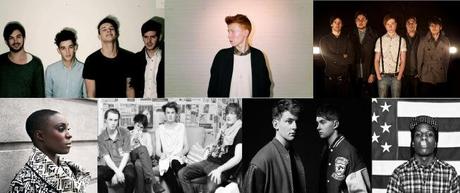 Future Festival 2013 Artists
At legendary Maida Vale studios in front of a live audience, Radio 1 DJ Zane Lowe hosted the live event with fellow specialist music DJ's including, Huw Stephens, Daniel P Carter, Rob Da Bank, Phil Taggart and Nick Grimshaw.
Opening the  night's proceedings were 'The 1975'; a Manchester 4 piece indie band made up of Matthew Healy, Ross MacDonald, Adam Hann and George Daniel, who performed 4 tracks including 'The City', 'Chocolate', 'Sex' and 'You'.
Having already released two EP's, 'Facedown' and the most recent 'Sex' EP, the quartet are due to release a 3rd EP before their debut album drops in May. The album will be produced by Mike Crossey who's previously worked with Foals, Jake Bugg and Arctic Monkeys.
The 1975 highlight their alternative mix of genres from electro indie-pop to 90's r'n'b, with their catchy hooks and relatable lyrics. The group have made the  successful transition from underground to mainstream as they continue their UK tour.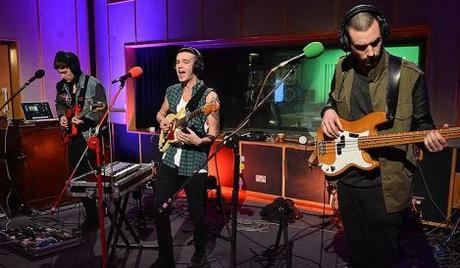 The 1975: Image from BBC Radio 1
Mallory Knox, made up of Mikey Chapman, Joe Savins, Sam Douglas, James Gillett and Dave Rawling, are one of the most exciting modern rock bands to emerge from the UK. Taking to the Maida Vale Studios, the band played 4 tracks including 'Wake up', 'Alone', 'Lighthouse' and 'Death Rattle',highlighting their incredible live energy, trademark hooks and riffs and emotionally-charged vocals.
Mallory Knox kicked off 2013 with the release of their 'Lighthouse' video, while their debut album 'Signals' is set to drop Jan 21st via A Wolf At Your Door Records. Their new single 'Beggars', taken from the forthcoming debut album, had it's premiere on Zane Lowe last week as the Hottest Record.
2012 saw the band tour extensively as well as performing at legendary rock festival 'Download Festival' . With great support from Radio 1 Rock specialist DJ Daniel P Carter, expect big things from the band as they launch into 2013 with an upcoming tour.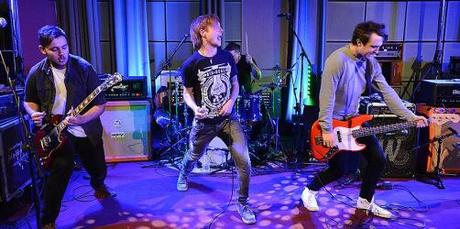 Mallory Knox: Image from BBC Radio 1
18 year old King Krule, AKA Archy Marshall and fellow BBC's Sound of 2013 longlist nominee, delivered an intense, reflective and captivating set with his performance of 'Out Getting Ribs', 'Ocean Bed', 'Rock Bottom' and 'Wavy'.
With the success of his debut EP in 2011, featuring the single 'The Noose Of Jah City', Marshall released his latest single 'Rock Bottom/Octopus' in September.
Having been likened to classic artists such as Edwyn Collins and Morrissey, Marshall highlights his edgy blues style vocals presenting a  mature and bleak sound, as he croons about the hardships of today's youths and painful memories of his past.  Such a unique sound and a far cry from many of his peers today, but one's that's certainly grabbing the attention it so rightly deserves. Expect a debut album this Spring.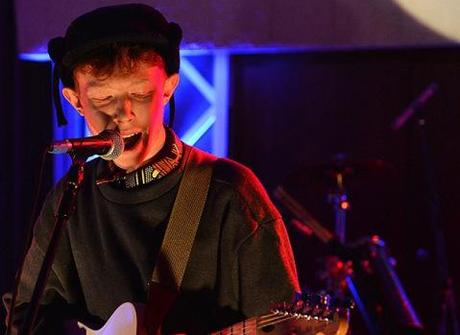 King Krule: Image from BBC Radio 1
Palma Violets are a South London Indie garage band, made up of Sam Fryer, Chilli Jesson, Pete Mayhew and Will Doyle. Their set for the night included 'Johnny Bagga Donuts', 'Step Up For The Cool Cats' and 'Best Of Friends'; the latter of which was recently voted as NME's track of the year.
Their latest single 'Step up for Cool Cats' is taken from their forthcoming debut album '180', which is set to drop February 25th on Rough Trade Records. Production comes from Steve Mackey, former Pulp member, who has gone on to write and produce for artists such as Florence + The Machine and M.I.A.
Curently on tour in the US, the band are set to support Alabama Shakes on their upcoming UK headline tour, as well as a co-headlining tour with post-punk rock band Savages. You can also catch Palma Violets on the upcoming  NME Awards Tour alongside Miles Kane, Peace and Django Django.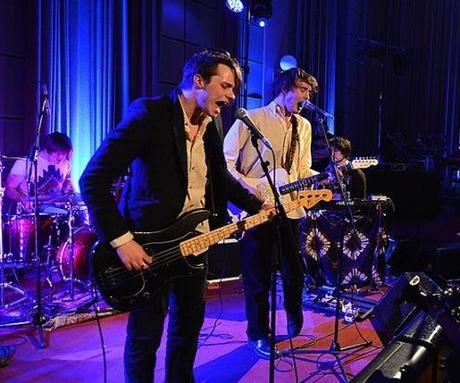 Palma Violets: Image from BBC Radio 1
26 year old Laura Mvula is certainly making waves and has been featured on countless 'ones to watch' lists. Having started off the year being shortlisted for the BBC sound of 2013 placing 4th, Laura also received  a nomination of the 2013 Brits Critics Choice Award. Laura's set included a beautiful performance of  'Green', 'Sing To The Moon' and 'She'.
Hailing from Birmingham, Laura grew up listening to jazz and studied classical music composition , which have greatly influenced her style today. Her debut single 'She' gained her great support, with it's soulful, enchanting vocals and layered harmony style production.
Currently working on her debut album 'Sing to The Moon', which is set to drop on March 4th through RCA Victor (Sony).  Production comes from Steve Brown (Rumer) and Tom Elmhurst, who's worked with artists from Amy Winehouse to Adele.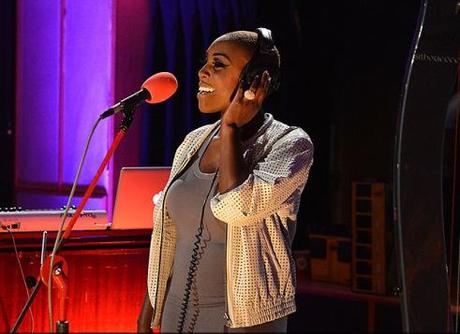 Laura Mvula: Image from BBC Radio 1
Harlem native A$AP Rocky, is fastly becoming  one of  hip hops brightest new rap artists.  Taking to the Maida Vale studios, A$AP knocked out hits such as, 'Long Live A$AP', 'Wild For The Night' and 'Goldie'.
Having released his highly praised debut mixtape 'Long Live A$AP' in 2011, featuring the singles 'Peso' and 'Purple Swag', A$AP was further propelled into mainstream hip hop with his first record signing. 2012 was  a game changer for A$AP. Not only was he nominated in the BBC Sound of 2012 longlist, but he also took to the stage at the legendary Coachella festival in the US, and joined Compton rapperKendrick Lamar as the opening act for Drakes 'Club Paradise' tour.
His debut album, 'Long Live A$AP', was released on January 15th, through Polo Grounds/RCA and was produced by Hit-Boy, Skrillex and Emile Haynie to name but a few. It also features collaborations withSantigold, Kendrick Lamar, Florence Welch, Drake and Joey Bada$$. The album was promoted with the singles 'Goldie' and 'Fuckin' Problems', while his latest single 'Wild for the Night' features Skrillex and Birdy Nam Nam.
A$AP Rocky is set to support Rihanna in her upcoming 'Diamonds' tour in the US and Canada in March. Hopefully we'll see some UK dates in there too.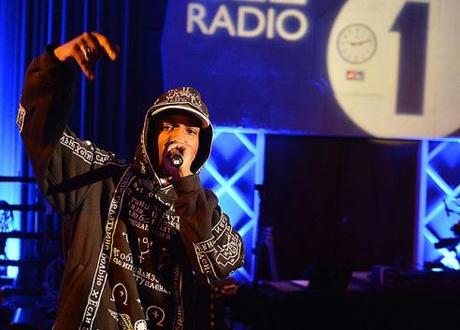 A$AP Rocky: Image from BBC Radio 1
Brotherly duo Disclosure, aka Guy and Howard Lawrence, have had such a successful 2012 and are fast becoming one of the most exciting acts for 2013.
With their unique fusion of electronica, dub-garage, synths and vocal samples, Disclosure's track record have included their debut single 'Tenderly/Flow', 'The Face' EP and various remixes such as the massiveJessie Ware 'Running'. Top that off with 'Latch' ft Sam Smith reaching no 11 on the official chart and that's one successful year.
Having supported  SBTRKT and Hot Chip on their 2012 tours, the duo have also performed at Annie Mac's All The Way Tour, Ibiza, Red Bull Culture Clash, 1Xtra Live and Bestival to name but a few. Their live sets also incorporates live bass guitars, drums machines, keys and even live vocals, further adding to the duo's never ending talents.
2013 is set to deliver the same impact. Having been nominated for MTV's Brand New for 2013 the duo are also preparing for their debut album to drop this March. Their new single 'White Noise' features AlunaGeorge and had it's premiere as Zane Lowe's Hottest Record. With some upcoming dates in the US in March including Ultra Music Festival, Heineken Open'er Festival, Disclosure will also be playing plenty of UK dates including Field Day in May.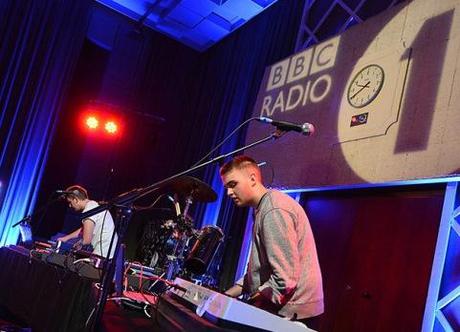 Disclosure: Image from BBC Radio 1
Check out the clips for all the above live performance and listen back to the 3 hours live show in full! For more new music, be sure to listen to Sara Cox this week for the Radio 1′s Future Livelounge series, featuring 5 more new artists including Bastille, Tom Odell, Kodaline, Clean Bandit and K- Koke.