By Willem Jongert
Bayern München vs. Arsenal:
This is one of the more anticipated matches because it includes the defending Champion and a transformed Arsenal. Last year it didn't go well for Arsenal in the Emirates as they lost 3-1 to a Bayern side that dominated in every aspect of the game. Let's take a look at each team's biggest strength and weakness
If you don't believe in evolution, then you are in for a treat as Bayern is a perfect example. Pep Guardiola created a team in Catalonia that will not be forgotten, as his Barcelona dazzled the world with their dominating possession and incredible football called, "Tiki-Taka". Pep Guardiola turned Bayern into the perfected Barcelona. Barcelona's biggest flaw was that they could not apply fast football into their game if they needed a goal quickly. Well, Pep used Barca as his blueprint and created the current Bayern team who DO happen to play fast and efficient football when needed. Now, onto the strengths of Bayern. Munich is currently the best team in the world so of course there are several strengths to choose from. But what is their key to success?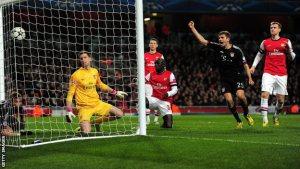 Last time Bayern played at the Emirates, Bayern won 3-1 and made it much harder for Arsenal to bounce back at the Allianz Arena.
The fact is that they have the strongest midfield currently in the world, and this won't change for a while. With several uncertainties about the defence, Phillip Lahm will have to go back to his original position as right back, leaving Bastian Schweinsteiger, Toni Kroos and Thiago in the midfield. Schweinsteiger has been injured of late, but has started his comeback into the 1st team. He is one of the best holding central midfielders in the world. He can pass brilliantly, shoot well and is always in the right position to intercept the ball. The same goes for Toni Kroos. He is a better shooter but does not have the physical strength to bully around the opposition in midfield.  Thiago is a completely different player, who has the speed to pose a threat on offense. These differences that Bayern's midfield possesses is what creates this great force in the world of football.
http://www.youtube.com/watch?v=yYUuvt6xbFM
Bayern's biggest weakness is their injuries to key players ahead of the clash. The "third best player in the world", Franck Ribéry will not be playing after undergoing surgery on a burst blood vessel. The absence of the Frenchman will be felt as his amazing skill and fantastic vision is a threat to any team. His replacement  will probably be Arjen Robben, who will move to the left flank while Thomas Müller will play on the right. Robben is a class player but we all know that he rarely uses his right foot. Mario Götze could be the other option as Ribéry's original replacement Xherdan Shaqiri is also out with a thigh muscle tear. While Bastian Schweinsteiger will play, he is coming back from an ankle injury and will surely not be 100% fit. Although he has been playing in the DFB Pokal and Bundesliga, the Champions League is another level of physicality.
Arsenal FC has had a good season so far, due to several transfers and a new spirit. Their biggest strength is the addition of Mesut Özil and their creative attacking midfield. The German wizard has created an even better team that has been in contention for the Premier League since the start of the season. They are currently second with 56 points, behind Chelsea who have 57. With the attacking midfield consisting of Özil, Santi Cazorla and Tomas Rosicky, Arsenal have three players that have very good vision and a great range of passing. The three players combined have 8 goals and 12 assists in the Premier League. At set pieces, Arsenal are dangerous due not only to their crosses and free kicks, but also their size in the box. Per Mertesacker is 1,98m and Laurent Koscielny stands at 1,86m. Both players have performed very well in defense this season.
Their biggest weakness is their inability to score when it matters. Oliver Giroud is their only quality striker which is even more disappointing considering the fact he isn't in the top five in scoring in the BPL. He has scored 10 goals in the BPL, which is decent. The question of tonight will be: Is Giroud enough to break through the German Wall? We will see, but my prediction is that Bayern will win against Arsenal at the Emirates, and then seal the deal at home.
Prediction: (AFC 0 - FCB 2), (FCB 3 - AFC 1)