By Willem Jongert-
The Champions League is one of the most anticipated tournaments in the football world and is the biggest challenge for the teams participating. There are only 16 teams left in the race to the final and today it will be the first leg for the 16 participating teams. Many people have waited for these matches and I myself can't wait to watch. I have several predictions on the draw.
Bayer Leverkusen vs. Paris SG:
Lets take a look at the biggest strength and weakness of both teams and predict the final result.
Bayer Leverkusen is currently second in the league and that is an accomplishment as Bayern are shredding the Bundesliga to pieces with last year's finalist Dortmund being behind them. Bayer has a dangerous attacking front with the talented South Korean Son Heung-Min, the VERY underrated Stefan Kießling and the Speedy German Sidney Sam. They all have something different to offer with Son technically gifted and having a strong left foot, Kießling being a menace in the air and Sam using his blistering speed to send in a low ball or cross. Sam already has 7 assists and 7 goals to his name in the Bundesliga. Kießling has 10 goals so far with Son right behind him at 8 goals.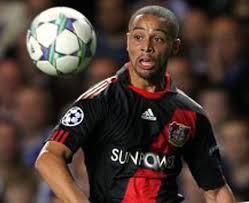 The speed of Sidney Sam could cause major problems for PSG's defense
Their biggest weakness is their inability to play when having much pressure on the ball as well as their inability to play against experienced teams with lots of depth and quality. For example; their group tie against Manchester United. Enough is said when a weak United team beats anyone at 4-2 at Old Trafford and 5-0 at the BayerArena . This will be the vital difference in the matches to come.
Paris St. Germain is a team to be reckoned with as they have climbed up the elite latter using mostly money, but that's ok, because they are on their way to winning a second straight Ligue 1 title. It is easy to say that PSG's biggest strength is their attacking front. Upfront is the Swedish beast Ibrahimovic who we all know is a player a class above Leverkusen. He has tallied 8 goals in the CL group stages and 19 in the Ligue 1. He also leads the Ligue 1 with 9 assists. Needless to say, Ibracadabra can shoot from anywhere as his display against Anderlecht is evidence.
http://www.youtube.com/watch?v=JnRYo75KSyQ
Next to him is another brute called Cavani. He is a beast in the air and has some skill if needed. He has tallied 13 goals in the Ligue 1. On the right, or behind the pair of strikers will be Lucas and on the left, Eziquiel Lavezzi. This attacking front is on another level compared to that of Leverkusen.
Their biggest weakness is their full backs. It is not that they are lacking defensive skill which could be the case, the problem is that they attack too often. Gregory van der Wiel is a serious threat on the right flank when sending in crosses to Ibrahimovic and Cavani. This offensive mind set makes it very easy for counter-attacking and Leverkusen can easily take advantage of this flaw. The left back Maxwell is not known for being the fastest as father time is gradually getting to him. Sidney Sam will be able to abuse him, and therefore create a serious threat in PSG's defensive half.
My prediction to this draw is that PSG will win at the BayerArena with 3-1 and also win at home 2-0 to progress to the Quarter finals.