Call me dramatic, but life without breakfast is a life not worth living. It's the reason I get out of bed, go to work and force myself to go to the gym. Without it, I am completely and utterly useless and an all-round nightmare to be with.
Needless to say, I am often confronted with the very real risk of having a bad breakfast (doubly so on the weekends). A bad breakfast can not only ruin my day, but also have a much longer-term impact on my life due to the butterfly effect of bad decisions, grumpy attitude and so forth. Perhaps if Rebecca Brooks had eaten some hot toast, poached eggs, sautéed mushrooms, crispy bacon and fresh coffee she would not have made those 'illegal voicemail interceptions'.
So to help prevent future privacy invasions I am going to do what I do best…eat breakfast. I will eat high and low, far and wide, in search of the best breaky London has to offer.
And when I am done, I will waddle down to the gym and try not to have a heart attack on the treadmill.
Gail's Artisan bakeries
Portobello Road
I'm not going to lie. The best thing about Gail's is the fact that it is located quite literally on the doorstep of Portobello Markets. What better way to work off a big breakfast than by shoppercise (my new favourite word).
I walked in amidst a pre-coffee coma so I was not at all prepared for the elbow pushing, hair pulling, all out war going on to get a table. But nothing gets between me and my food. I chose my competition carefully and decided to take on a pretty tough looking two-year-old for the prime seat. Needless to say I won (balance was his weak point).
Having only four items on the menu really takes the guess work out. I decided to go for the baked eggs on an English muffin, bacon and roast tomatoes for a neat £8.50.
Why the English feel the need to call an English muffin 'English' whilst in England in beyond me. It should just be a given (case in point as to why I should never be around people before I eat breakfast).
Finally my food came out. It looked great but was made even better because the whimpering two-year-old still hadn't got his yet. Karma must have been watching though as my eggs were like two little yellow rocks that I kicked around with my knife and folk (now who is the two-year-old).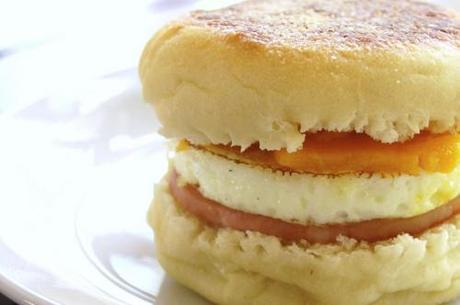 English muffin
Or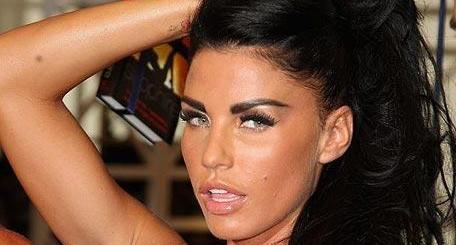 English muffin
Wallace and Co
Putney
I have a slight alliance with Wallace & Co because it was my saving grace when I first arrived in London. Something about the baskets filled with eggs, checkered tablecloths and bunches of fresh herbs made me feel at home. That and the seriously convenient location right next to my gym.
I am actually slap-bang in the middle of a HUGE moral dilemma with Wallace & Co. The problem is this. The food here is actually not too bad and like I said, it is right next to my gym. So every other Saturday I run on the treadmill and then treat myself to a Vegie Breakfast, cappuccino and Guardian newspaper just next door.

Vegie breakfast
But the red-headed manager here is a complete and utter cow. I'm not sure what her problem is, but she clearly has one with me…or any solo eater for that matter. Perhaps she suffers from Anuptaphobia, the fear of being single and is terrified that people who eat by themselves will infect her with some form of unwanted independence. That is the nicest possible reasoning I can come up with to excuse her rudeness.
So do I stay for the good food and convenient location? Or do I deny myself my Saturday breakfast on principle that the manager is a cow? I hate decisions like this.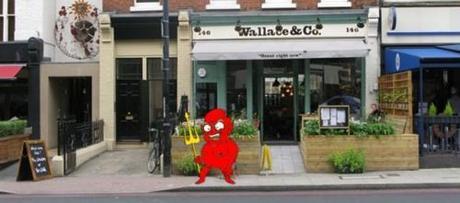 The Devil's lair
Del Aziz Café
Fulham 
My eyes still feel dirty due to the heinous amount of food perving they committed at this café. It took every bit of strength in my body to walk past the open stands of freshly baked cakes, croissants, bread and other delectable delights and sit myself at a table.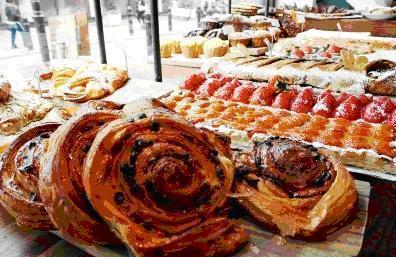 Just keep walking....
Once I averted my eyes long enough to look at the menu I decided to try my luck at the Full Vegetarian Breakfast with a skinny cappuccino (to counteract the breakfast calories). Turns out it was not a bad choice, except for the white beans which were kind of yucky…technically speaking. Coffee was great though so I was back to being happy with my meal.
It's a little bit more expensive than most places, costing £11.50 and the waitress got cranky with me for taking a photo (maybe she hadn't had her breakfast yet).

Vegie breakfast
Le Pain Quotidien
Wimbledon Village
I'm not going to lie. I have a slight disdain for chain cafes. Especially those I don't realise are a chain until I am securely seated and committed to a mass-produced breakfast. But I was hungry, tired and possibly a little hungover, so I pulled myself together and shuffled in.
I scanned the menu and kicked myself for picking the only place in London not to serve some form of sausage or bacon. But then I see the organic soft-boiled egg and my heart lifts a little. I am a sucker any excuse to cut my toast up into tiny pieces and dip it into my food.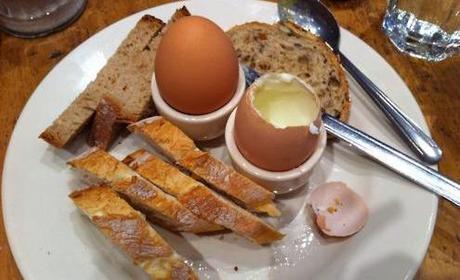 Soldiers bravely awaiting deployment
O and what a brilliant egg it was. Perfectly cooked, bright runny yolk, accompanied by an assortment of tiny toast soldiers awaiting their deployment into my mouth. Yummo and definitely going back.