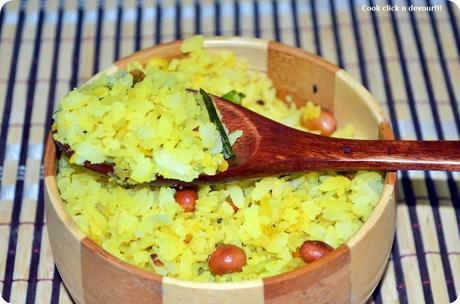 Poha means beaten rice(english),aval(Tamil). It is a very versatile ingredient and one can make so many yummy dishes with this in no time.Right from starters,snacks,light meal to desserts like payasam,pudding can be made with poha.Today I am blogging about a very humble yet so very tasty recipe,batata poha- a Maharashtra special preparation with poha.Aval upma is my all time favorite breakfast and I used to have it almost everyday while I was working.This batata poha uses only potato,I saw this recipe here and tried it out The only change I made in the recipe was to use boiled potatoes instead of sauteing them.I knew that we need to boil potatoes for poha,so even before reading the recipe  had pressure cooked potatoes,so I had to use them :). Next time I would saute the potatoes as Dassana has mentioned. This is a vegan preparation,low calorie dish,very vibrant and colorful,comes together in a jiffy and most important absolutely tasty and keeps you full for long time.What more would you want from a recipe :).
Batata poha recipe
Star ingredients:Beaten rice and potatoes
Time:20 minutes
Serves 3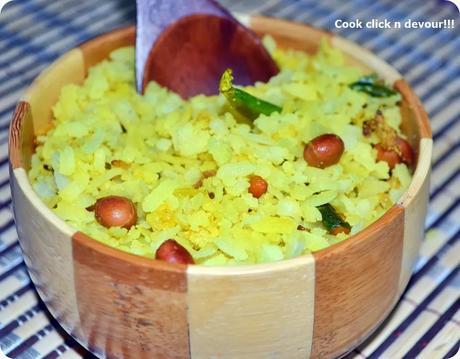 Ingredients: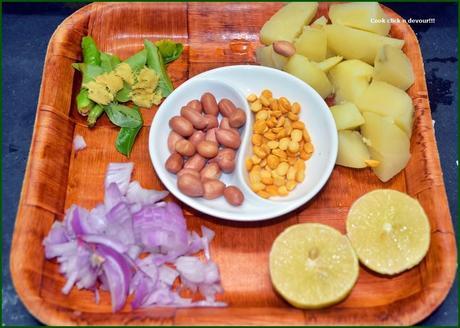 1 1/2 cup beaten rice(aval,poha) (I used thick variety)
2 medium sized potatoes boiled,peeled and cubed
1 onion sliced
2 tablespoons peanuts
1 tablespoon channa dal
3 green chillies slit
Crushed ginger
10-12 curry leaves
1/2 teaspoon sugar
1/2 teaspoon mustard seeds
1/2 teaspoon cumin seeds
1/2 teaspoon turmeric powder
2 teaspoons lemon juice
Salt
Oil to temper
Method:
1.Boil,peel and cube the potatoes.
2.Rinse the poha in running water well,sprinkle some water over it and let it sit for 5 minutes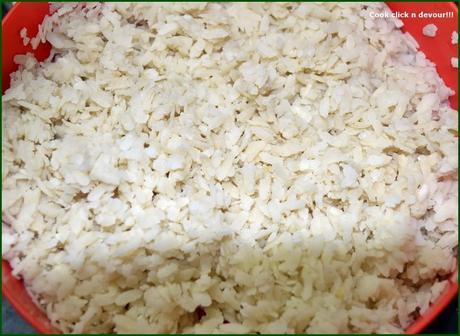 3.Heat a kadai and 1 1/2 teaspoons oil to it.Temper with mustard,cumin,ginger and green chillies.
4.Add channa dal and peanuts.Saute for 3 minutes.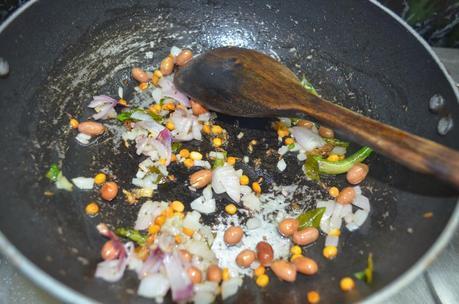 5.Add the sliced onions and fry till translucent.
6.Add the cubed potatoes,salt and turmeric powder.Saute well for 3-5 minutes.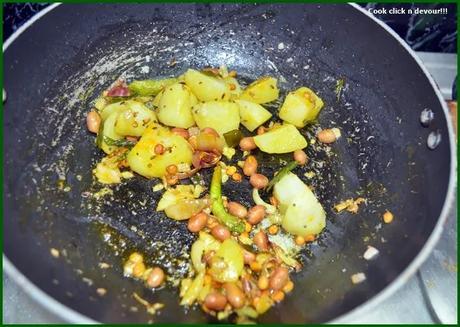 7.Add the softened poha,sugar and mix well.Saute for 2 minutes and remove from flame.Add lemon juice and serve hot.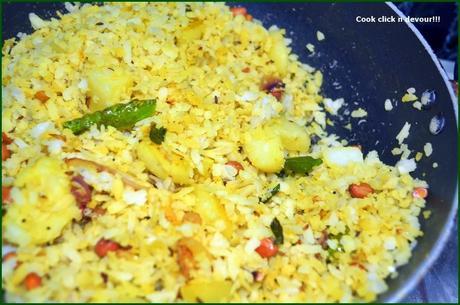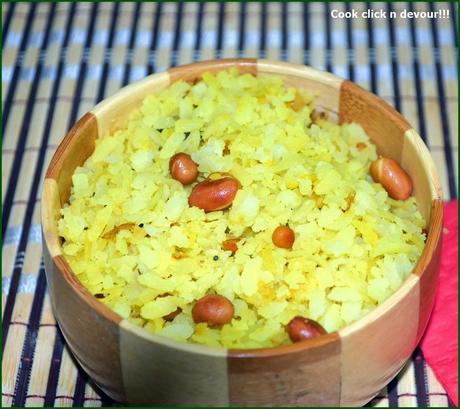 Notes:
1.If you are using thick poha sprinkle some water and let it sit for 5-10 minutes to make it soft.If you are using medium one no need to add any water.Just rinsing the poha will do to soften it.
2.You can also add grated coconut after removing from flame.