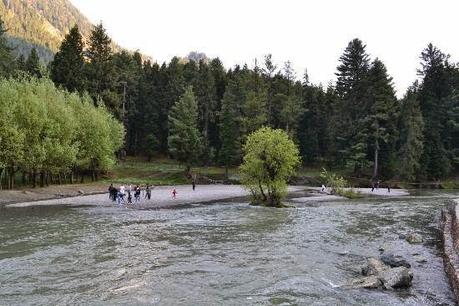 Betaab Valley was earlier termed as Hagoon or HAGAN VALLEY afore
1983. Then in the same year a bollywood movie called Betaab, starring Sunny Deol and Amrita Singh ( Famous Bollywood actors) which appeared to be a blockbuster with maximum grossing revenue in that year. 
From then, the name of this scintillating valley has changed. Betaab Valley is splendid blend of abundant green Lidder River which divides into two streams forming an island in amid and rejoining again, mountains with pine and deodhar trees on all sides, colorful huts, Akhrot (Walnut) trees, Willow trees, Ice Capped Peaks and deluge of multicolored flowers.
Along with that we find numerous breed of birds chirping along the valley. The entire view is absolutely serene and magical. Along with the adorable scenes, weather and cool fresh winds which adds a lot to the phenomenal combination. Betaab Valley is the favorite for horse riding. 
You can hire horses here for the hour and you must try it. Betaab Valley is as well an admired spot of travelers from America and Europe as it is as well serves as a base for trekking and more exploration of the mountains. 
Endowed by sprawling green mountains featuring deodar and pine forests, Betaab Valley is an ideal gateway to adore the adorable pleasure of Mother Nature. The sights of coloring beds of flowers within the blooming walnut and willow panorama accomplish the absolute landscape absolutely beauteous casting a spell of magic on this land of abiding beauty. The experience is even more acute by the pleasant whispers of several birds.
 Being an adored jewel of Jammu and Kashmir tourism, Betaab Valley is a part of a scattering of Pahalgam tourist places to visit that should not be missed. Situated at a walking ambit from the capital centermost of Pahalgam, the valley is as well an excellent camping site for trekkers and explorers.
The valley can be visited anytime of the day, the best time to visit the Betaab Valley is between the months of October and April.
How to Get Here
By Air- Srinagar Airport is the closest airport to the gorgeous hill resort of Pahalgam and is around 96 km and the airport is very well connected to numerous prime cities of India. 
By Rail- Jammu Tawi Railway Station is the closest railway station which is as well very well connected to the major cities of India. 
By Road- Well connected to Srinagar and Jammu by roadways, Pahalgam can be easily reached by buses and taxis that can be seen plying on these roads.