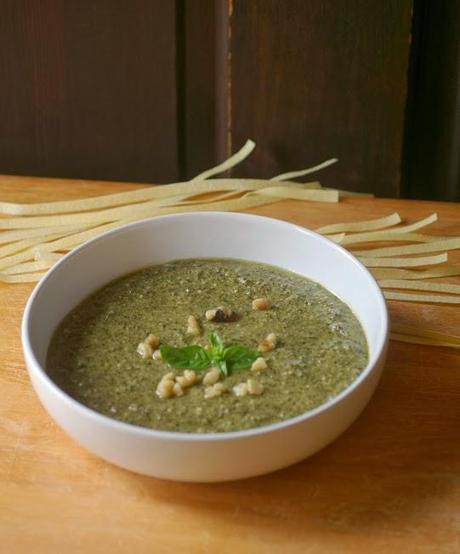 I planted some basil in the spring and now that it is getting colder, I want to use it all up. Basil will not make it through our winters here so I better figure out what to do with it before the first frost comes and kills it.
I figure the best way to use up all that basil is to make a pesto. I had three plants and pulled two to make a big batch of pesto. I still have a plant outside that I am picking from.  Last year I had the bright idea to freeze the leaves. It didn't turn out so good. I was black and looked awful, so I didn't use it.
I see a lot of pesto recipes with pine nuts in the ingredients. Although they are good, I prefer walnuts.  I like how they taste and they are a bit cheaper than pine nuts.
Pesto can be used in so many things, the ideas are endless. I love to spread on a sandwich, on pasta, in salads and soups, well you get the idea. So, if you are looking for a way to use up all that basil, make some pesto.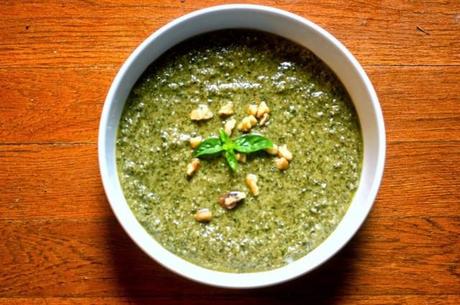 Print Recipe
Basil Pesto
Ingredients:
1/4 cup walnuts
2 cups basil leaves
1/2 cup olive oil
2 cloves garlic
1/2 cup Parmesan cheese
1 teaspoon salt
1/2 teaspoon black pepper
Directions:
Preheat oven to 250 degrees
Place walnuts on a baking sheet and bake for 10 minutes.
Combine the basil and walnuts in a food processor. Pulse until combined. Add garlic and cheese and pulse until it is incorporated.
Through the feed tube add the olive oil in a steady stream until combined. Stop to scrape the sides and add salt and pepper. Pulse a few more times.
You can store the pesto in an air tight container in the refrigerator for up to a week.
Peace be with you,
Veronica