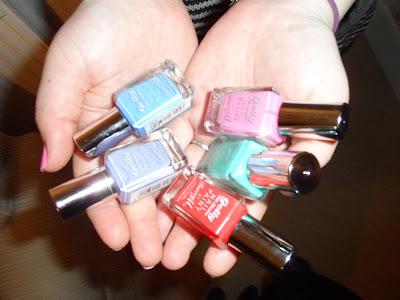 Splurge Alert!
Wow, just realised that this is my third nail polish post in three weeks! Sorry about that, obviously becoming a bit obsessed.
I am now 6 days past my due date and I need things to keep me occupied so I don't get bored out of my mind with the waiting game.
That being said, I'm using the time to read, watch movies, see friends and catch up on all of my favorite blogs. I wanted to buy myself a little something, as I haven't bought anything for myself in ages, and with spring in the air, and the fact that I can't really buy clothes at the moment, I felt that some new nail colours were in order.
After reading my usual blogs, I quickly picked up that the nail varnish du jour are the Barry M Hi Shine Gelly Nail Paint.
Lily
, Lily and
Becky
have all been raving about them, so I thought a trip up to the high street to my local Superdrug was in order. Lucky for me, there is currently a special deal on these polishes - 2 for £6 (they are usually £3.99 each)...so naturally I bought a few...5 to be precise...I missed out on number 6 because their stock was low, but I was told I can come back in with the receipt and pick up another color as part of the deal, when they get more stock in.
These nail paints are supposedly so good because they provide a hi shine, gel like finish, which looks super shiny and lasts, chip free, for a few days more so than a regular polish.
The colours I opted for were: Satsuma, Dragon Fruit, Greenberry, Blueberry and Prickly Pear.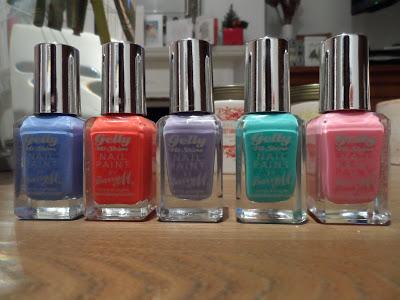 From left to right: Blueberry, Satsuma, Prickly Pear, Greenberry, Dragon Fruit.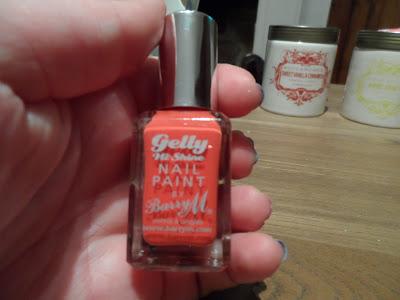 Satsuma is a really gorgeous almost neon orange. In this picture, it looks more pastel then neon, but the effect is definitely bright and loud in real life.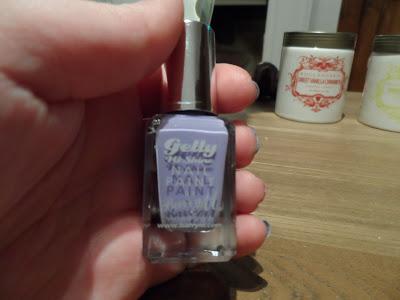 Prickly Pear is a super pretty soft lilac. It reminds me of the color I wore on my nails on my wedding day, but this is slightly more concentrated, and I can't wait to try it out.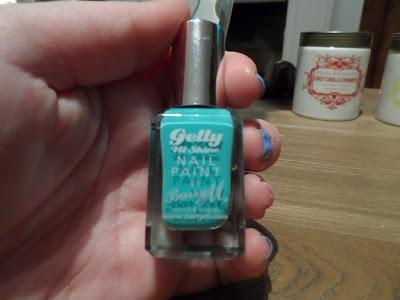 Greenberry reminds me a bit of Pool Party, my favorite color from Topshop's nail varnish range. It's a vibrant mint green with a hint of blue - perfect for spring time.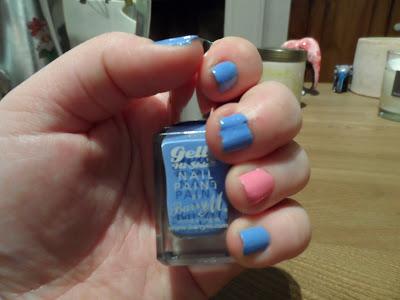 Blueberry is a gorgeous sky blue. I've painted my left hand with this shade (apart from my ring finger, which is Dragon Fruit) in anticipation of the possibility of Titch being a boy.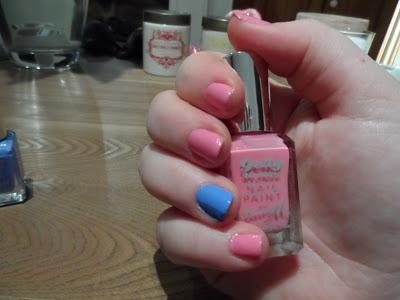 Finally, Dragon Fruit (as shown on my right hand in case Titch is a girl) is a pretty candy pink - a little bit brighter than the baby pink I used in my last post.
So I've used two of the Gelly paints and I was really impressed with them. They glided on easily, dried quickly and I applied two coats of each. The end result was so shiny that I didn't even have to use a topcoat.
Now the test, let's see how long they last without chipping. I'll let you know either here or on twitter so make sure you follow me - @cbelleoftheball 
Have you tried the Gelly varnishes? What are your thoughts? Enjoy x