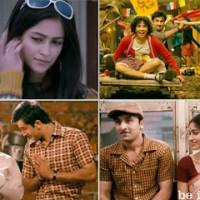 Barfi by any other name would have tasted as sweet

You forget about the technicalities of a film – script, cinamatography, screenplay – when it comes to films like these. The emotion captured by that lens is all you care for.
Performances
Jhilmil (Priyanka Chopra) tops my favorite list when it comes to acting – it's effortless and effective! With every film she comes, she makes me think this one's her best performance. She wrongs me with every subsequent film. I loved her work in Aitraaz, Fashion, Dostana, Kaminey, Anjaana Anjaani (haven't seen 7 Khoon Maaf) but Barfi is her best work till date

See I'm getting caught in it again

Murphy (Ranbir) with his cutesy Charlie Chaplin act, the all-in-one charming, sensible and sensitive (no wonder he has both his heroines falling for him

works like magic. Every time your eyes begin to well up with tears, his naughty goofy antics bring back a smile. He's probably one of the only star sons who's proved his mettle in the industry.
Shruti (Illeana d Cruz) doesn't give the slightest hint its her Bollywood debut. She is certainly not the prettiest faces around, but definitely someone who can act. I loved her voice. It's intense and heartening (it totally compensated for our dumb duo

and yes, she does give a glance of Amrita Rao – the much forgotten Ishq Vishq girl next door?
Favorites scenes
I have too many of them but here are the ones that are bubbling in my head.
* The one where Barfi comes to ask for Shruti's hand, with the 'jhilmil sitaron ka aagan' letter
* The one where our 'knight In shining armor' Barfi sitting (well, falling off a horse) is trying to escape Shruti's mother's eyes
* The one where Jhilmil (Priyanka) passes Barfi's friendship test
Music
That's the soul of this film. Barfi wouldn't have been half as good had it not been for the music. Is dil ka kya karoon is my favorite.